Gluten-Free Rocher Meringues
Holiday 2018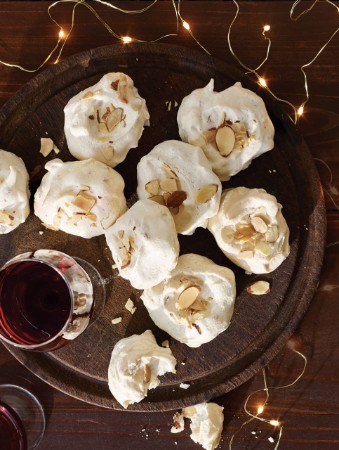 Gluten-Free Rocher Meringues
Holiday 2018
BY: Michelle Lucas Larving
These rustically shaped "rock" meringues call for a higher heat than traditional meringue cookies, leaving them lightly golden on the outside with a wonderfully chewy centre. While they need to be baked off in batches, there's no need to rush, as the mixture is perfectly stable standing at room temperature in between bake times.
2 cups (500 mL) toasted sliced almonds, divided
1¼ cups (310 mL) icing sugar
6 egg whites, at room temperature
1 vanilla bean, seeds scraped
1 cup (250 mL) granulated sugar
⅓ cup (80 mL) water
¼ cup (60 mL) finely chopped candied ginger
1. Arrange racks at centre and bottom thirds of oven. Preheat to 300°F (150°C). Line 2 baking sheets with parchment. Set aside.

2. In a medium bowl, combine 1½ cups (375 mL) almonds with icing sugar.

3. Using a stand mixer, whisk egg whites with vanilla seeds on medium-high speed until stiff peaks form, 4 to 5 minutes.

4. Meanwhile, combine granulated sugar with water in a small saucepan set over high heat. Without stirring, cook until mixture reaches 240°F (116°C) on a candy thermometer.

5. With the motor of the stand mixer still running, carefully pour cooked sugar syrup into egg whites in a slow stream along the sides of the bowl. Continue to whisk on medium-high speed until completely cooled to room temperature, up to 10™minutes. Using a spatula, gently fold in almond mixture along with candied ginger just until combined.

6. Using two flatware spoons, drop scoops of meringue 1 tbsp (15 mL) in size onto prepared baking sheets, spaced 1 inch (2.5 cm) apart. With the back of one spoon, swoop an indentation into each centre. In a small bowl, lightly crush remaining ½ cup (125 mL) almonds using your fingertips, then sprinkle overtop.

7. Place sheets in centre and bottom thirds of oven. Reduce heat to 250°F (120°C).

8. Bake for 40 minutes, switching sheets halfway through, until surface is dry to the touch. Transfer to a wire rack and let cool, 10 minutes. Remove from baking sheets and let cool completely. Repeat with remaining meringue mixture and almonds.
SHARE