Ginger-Lime Wine Punch
Summer 2018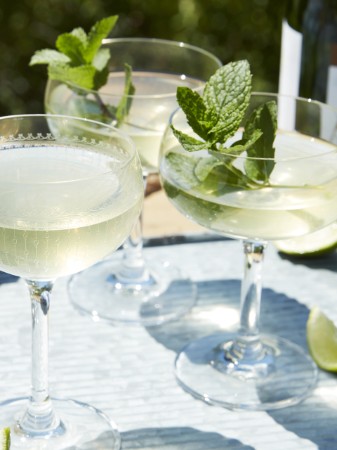 Ginger-Lime Wine Punch
Summer 2018
BY: Victoria Walsh
When you're looking for a refreshing cocktail but want something that's simple to put together… All that's required is a little pouring and adding a mint sprig to create this delightful summer sipper.
1 bottle (750 mL) crisp dry white wine such as dry Riesling or Grüner Veltliner
3 oz ginger liqueur
1 oz freshly squeezed lime juice
1 mint sprig, plus more for garnishing


1. Pour ½ cup (125 mL) wine into another glass or resealable container, such as a Mason jar. Set aside for another use. Using a funnel, add ginger liqueur and lime juice to remaining 2½ cups (625 mL) wine in bottle. Carefully feed mint sprig through the spout. Cap or recork. Gently shake or swirl to incorporate. Refrigerate until chilled and flavours infuse, 1 to 2 hours.

2. Serve in coupe or wine glasses. Garnish with additional mint, if desired.



SHARE