Garlicky, Sticky, Crunchy Baby Back Ribs
Summer 2014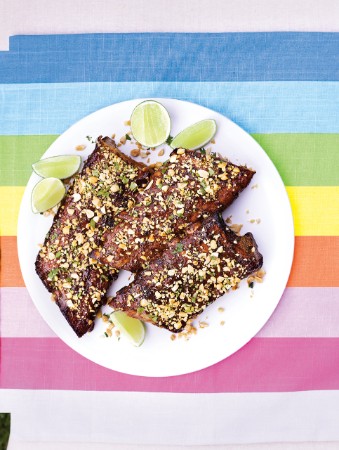 Garlicky, Sticky, Crunchy Baby Back Ribs
Summer 2014
BY: Christopher St. Onge
These scrumptious ribs can be par-cooked in the foil a couple of days in advance of the big night. Simply leave them wrapped in foil and warm them for 10 minutes on the grill before unwrapping and proceeding to glaze. Don't be tempted to use diet root beer here—the sugars in the root beer are necessary to the glaze. If you aren't sure how to remove the silver skin from the ribs, have your butcher do this for you.
1½ tsp (7 mL) salt
1 tbsp (15 mL) coarsely ground black pepper
2 racks pork baby back ribs, silver skin removed
4 green onions, washed and trimmed of roots
A length of peeled ginger, 2 inches (5 cm) long, cut into eight ¼-inch (5-mm) slices
1 can (355 mL) root beer
½ cup (125 mL) hoisin sauce
6 cloves garlic, peeled
½ tsp (2 mL) cracked black pepper
1 tbsp (15 mL) sambal oelek or Sriracha sauce
3 tbsp (45 mL) fish sauce
3 tbsp (45 mL) lime juice

GARNISH
½ cup (125 mL) grape-seed, or vegetable, oil
5 cloves garlic, finely chopped
½ cup (125 mL) roasted, salted peanuts, chopped
¼ cup (60 mL) chopped cilantro to serve
1 Preheat oven to 250°F (120°C).

2 Combine salt and pepper in a small dish. Sprinkle evenly over ribs and rub seasoning to distribute. Place each rack, hollow up, in the centre of 2 pieces of foil large enough to enclose racks. Line each rack with 2 green onions and 4 pieces of ginger; gather foil to seal. Arrange on a baking sheet; place in oven and cook for 2 hours.

3 While ribs are cooking, combine root beer, hoisin, garlic, pepper, sambal oelek and fish sauce in a medium saucepan over medium heat. Bring to a boil and reduce to 1 cup (250 mL), about 15 minutes. Using an immersion blender (or a conventional blender), purée. Stir in lime juice, and set glaze aside (glaze may be made up to a week in advance and kept covered and refrigerated).

4 Preheat grill to low.

5 For the garnish, heat oil in a small saucepan over medium-low. Fry garlic for 2 to 3 minutes or until light golden and fragrant. Pour oil and garlic through a fine mesh sieve over a heatproof bowl (save oil for another use) and turn garlic out onto a paper-towel-lined plate. Allow to cool and toss with peanuts.

6 Unwrap ribs; discard juices, green onions and ginger slices. Brush with glaze and grill 3 to 4 minutes per side or until glaze is sticky and lightly caramelized. Repeat process 2 more times to create 3 layers of glaze on each side. Remove to a platter and sprinkle with peanut mixture and chopped cilantro.
SHARE