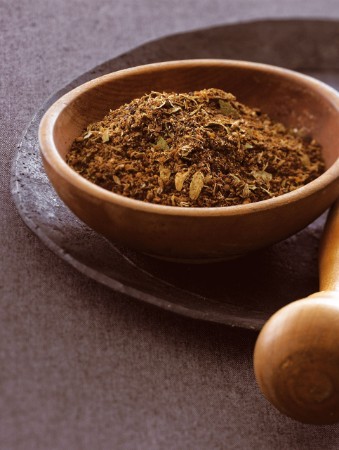 BY: Robert Hercz
Sprinkle garam masala on pilafs, biryanis, sautéed vegetables, cooked lentils or any grilled meat. Add it to soups, stuffings and onion-based sauces. Use it in barbecue marinades or as a rub for roasted or grilled chicken or beef. But use it with a light touch-garam masala can easily overpower a dish. Having a ready supply of garam masala requires just a few minutes work, two or three times a year. It also gives you the chance to tailor the recipe to your own tastes. Here's a starting point.
2 tsp (10 mL) black peppercorns
1 tsp (5 m) whole cloves
One 2-inch (5-cm) cinnamon stick, broken into pieces
1 tbsp (15 mL) green cardamom seeds
1 tbsp (15 mL) cumin seeds
1 tbsp (15 mL) coriander seeds

Optional Ingredients
3 bay leaves, crumbled
4 pieces mace
2 tsp (10 mL) fennel seeds
½ tsp (2 mL) fenugreek seeds
1. Place all ingredients into a heavy, medium-hot frying pan. Dry roast, shaking or stirring the pan, until colour darkens (1 to 3 minutes), being careful not to burn the spices (for more control, roast each spice individually). Allow to cool.

2. Grind to a fine powder with a mortar and pestle, spice mill, pepper mill or electric coffee grinder and store in an airtight container for up to six months.

3. Remember, the proportions of these ingredients can vary drastically. Feel free to adjust them to your own taste.
SHARE