Fried Halloumi, Warm Olives & Honey
Summer 2016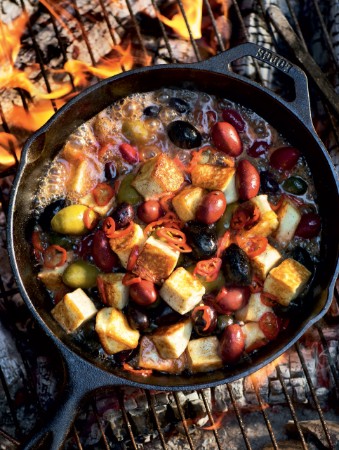 Fried Halloumi, Warm Olives & Honey
Summer 2016
BY: Christopher St. Onge
It's likely you've forgotten, whether by design or by chance, to bring measuring utensils on your camping trip. If you don't have any such thing with you, generously coat the bottom of your frying pan with oil—it will probably be close enough to the indicated measure. If purchasing olives from an olive bar, the medium-size clear tubs usually hold 2 cups (500 mL).
¼ cup (60 mL) olive oil
1 pkg (250 mL) halloumi cheese, cut into generous 1 inch (2.5 cm) chunks
Juice of 1 small orange
2 cups (500 mL) mixed olives
Honey for drizzling
Coarsely ground black pepper
1 to 2 red finger chilies, thinly sliced
1 Prepare coals to medium. Set a medium cast-iron pan over the grill, and heat oil. Add cheese and fry until golden all over, 15 to 30 seconds per side. Remove cheese to a board or bowl and set aside.

2 Squeeze orange juice into pan and immediately add olives. Loosely cover pan with foil or another pan and cook until olives are warmedthrough, about 3 minutes. Remove cover, stir in cheese; remove from heat.

3 Drizzle with a modest amount of honey (you can always add more later if you wish) and season generously with pepper. Sprinkle withsliced chilies and serve in the pan while still warm.
SHARE