Fresh Fig Olive Oil Anise Cake
Autumn 2015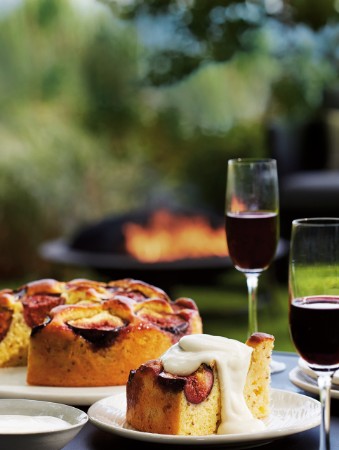 Fresh Fig Olive Oil Anise Cake
Autumn 2015
BY: Signe Langford
The flavours of anise and honey make this elegantly simple cake earthy, while the flavours of chèvre and orange zest give it tang. Not overly sweet, it works beautifully for a special breakfast or brunch, too. Fresh figs can be tiny or super-plump, so the number you'll need will vary. The Chèvre & Honey Sauce is optional. If time is tight, top the cake with a scoop of vanilla ice cream.
1 cup (250 mL) all-purpose flour
½ cup (125 mL) semolina flour
1½ tsp (7 mL) baking powder
2 tsp (10 mL) anise seeds
½ tsp (2 mL) sea salt
¼ tsp (1 mL) baking soda
½ cup (125 mL) sugar, divided
½ cup (125 mL) olive oil
3 free-range eggs, separated
1 cup (250 mL) plain, full-fat yogurt
Zest of 1 large, washed orange
1 tsp (5 mL) pure vanilla extract
Dab of vinegar
5 to 10 fresh figs, washed and cut in half or wedges, depending on size, skin on, stems removed
Optional Garnish: icing sugar for dusting or Chèvre & Honey Sauce (recipe follows)
1 Preheat oven to 350°F (180°C). Grease the sides and bottom of a 9-inch (23-cm) spring-form pan with nonstick spray. Place a circle of parchment paper on the bottom.

2 In a large bowl, whisk the 2 flours together. Add the baking powder, anise, salt and baking soda; whisk to combine, breaking any lumps.

3 With a hand beater or in the bowl of a stand mixer on medium-high, beat ¼ cup (60 mL) of the sugar with the oil, for about 1 minute. Add the egg yolks and flour mixture and continue to beat. Add the yogurt, orange zest and vanilla.

4 Degrease a large bowl with a dab of vinegar on a clean cloth, and add the egg whites. Tip: egg whites won't fluff up if there's any oil or fat present, so make sure no yolk gets past you either. Also, make sure the beaters are clean and dry. Gradually beat in remaining ¼ cup (60 mL) sugar until firm peaks form.

5 In 2 additions, fold the fluffy egg whites into the batter and just barely mix in.

6 Transfer the batter to the prepared pan, smooth out the top a bit, then add the figs in any pattern you like, arranged or random, and push each one down into the batter a little, skin-side down.

7 Bake until a cake tester inserted into centre comes out clean (try not to run it through a juicy fig), about 30 to 40 minutes. Set on a wire rack to cool, in the pan.

8 When cool, run a dull knife around edge of pan and unmould cake by sandwiching it between 2 wire cooling racks, flipping over,
removing pan bottom, and peeling off parchment, then flipping back over again.

9 To serve, dust with icing sugar, or drizzle each slice with Chèvre & Honey Sauce.
CHÈVRE & HONEY SAUCE

This couldn't be simpler! Add ½ cup (125 mL) chèvre (soft goat's cheese), ¼ cup (60 mL) 35% cream, ¼ cup (60 mL) dark honey—buckwheat or another deeply flavoured natural honey—and 2 tsp (10 mL) anise liqueur (arak, white sambuca, pastis, pernod, etc.) to a microwave-safe bowl and heat on high for about 1 minute. Take out, whisk, and add ¼ cup (60 mL) plain, full-fat yogurt. Whisk until completely smooth and easy to spoon over each serving of cake.
SHARE