Flipped Chicken and Vegetable Tart
Early Summer 2008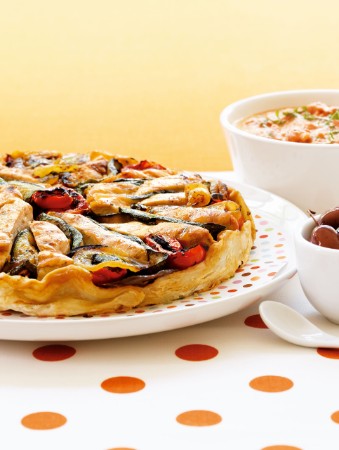 Flipped Chicken and Vegetable Tart
Early Summer 2008
BY: Marilyn Bentz-Crowley
Beautifully arranged grilled vegetables and chicken are exposed as the tart is inverted onto a serving plate in a tarte-Tatin manner. Tomato rosé sauce includes a touch of vodka that releases extra flavours―and then disappears. Serve with a baguette for sopping up the last of the delicious sauce.
Filling
3 skinless, boneless chicken breasts
¼ cup (50 mL) olive oil
2 large garlic cloves, minced
1 medium-sized Oriental or ½ medium ordinary eggplant
1 medium zucchini
3 plum tomatoes
1 small Vidalia onion
1 large sweet red pepper
1 piece frozen butter puff pastry, defrosted but cold
Salt and freshly ground pepper

Sauce
One 796 mL can diced tomatoes
2 tbsp (25 mL) vodka
10 large basil leaves, divided
½ cup (125 mL) whipping cream
1 tsp (5 mL) granulated sugar
¼ tsp (1 mL) salt
⅛ to ¼ tsp (0.5 to 1 mL) cayenne
12 to 16 black olives
1. Flip tenderloin, if present, off to the side of chicken breasts for more even grilling. Combine oil with garlic. Diagonally slice eggplant and zucchini a scant ¼-inch (5-mm) thick. Slice tomatoes and onion crosswise into ¼-inch-thick (5-mm) rounds. Seed and cut red pepper into eighths.

2. Preheat barbecue on high until hot. Very lightly brush chicken and vegetables with garlicky oil and place on grill. Adjusting heat as needed, grill chicken, turning once or twice, for 10 to 15 minutes or until just cooked through and golden on outside. Grill vegetables on hottest part of grill for mere minutes, turning as needed, or until grill marks are present and vegetables are slightly singed and softened. Remove to a large tray as each becomes cooked; cool until able to handle. All oil is not used; set remaining aside for sauce.

3. Liberally butter a 9-inch (23-cm) round cake pan or coat with nonstick spray. Preheat oven to 425°F (220°C). Roll out pastry into a rough circle about 12-inches (30-cm) in diameter. (If making ahead, don't roll out pastry until just before tart goes into oven.)

4. Diagonally cut each chicken breast into thick slices. Overlapping, arrange chicken and vegetables in a decorative swirl pattern on bottom of cake pan. Lightly season with sprinklings of salt and freshly ground black pepper. Top with any remaining filling. (Pan can be covered and refrigerated for up to half a day. Add 5 minutes to baking time.) Top with pastry round; trim to about an inch (2.5-cm) overhang; tuck pastry down around filling edges. Bake 20 to 25 minutes or until puffed and deeply golden.

5. Meanwhile, to make sauce, heat remaining garlicky oil (about 1 tbsp/15 mL) including garlic bits, over medium heat. Cook about a minute or until fragrant. Add diced tomatoes, including juices, and vodka. Bring to a boil; then adjust heat as needed so uncovered mixture boils gently. Cook 25 minutes or until reduced and somewhat thick yet tomato pieces are still visible. (Sauce can be refrigerated; then reheated.)

6. Finely chop half of basil leaves. Stir chopped basil, cream, sugar, salt and cayenne into sauce. Cook 3 to 4 minutes or until hot but not boiling. Roll remaining basil leaves into a cigar shape and very finely slice crosswise forming a chiffonade.

7. When tart is baked, place a large warmed plate upside down over pastry. Invert tart and remove cake pan; replace any bits that may have been disturbed. Cut tart into wedges, place on warmed serving plates. Nap with some sauce, scatter basil shreds and add an olive or 2. Serve right away, passing remaining sauce.
SHARE