Flattened Chicken Under a Brick
Holiday 2010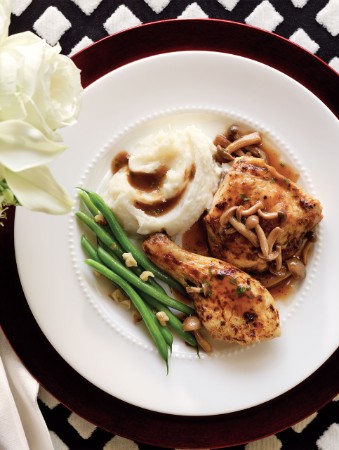 Flattened Chicken Under a Brick
Holiday 2010
BY: Lucy Waverman
Flattened chicken cooks quicker than a whole chicken without losing that great roasted flavour. It is readily available at butcher shops or you can butterfly your own by removing the back and breast bones yourself. By roasting under a weight the chicken becomes even crisper and juicier. Serve with creamy mashed potatoes and green beans with walnuts. Smaller chickens bake best. You can use the hot smoked paprika if desired. If honey mushrooms or hon shimeji, which are now grown in Ontario, are not available, use oyster mushrooms.
3 tbsp (45 mL) chopped tarragon
1 tbsp (15 mL) Dijon mustard
1 tsp (5 mL) mild smoked paprika
3 tbsp (45 mL) olive oil
1 chicken, (3 to 3 1/2 lbs/1.5 to 1.75 kg) butterflied
Salt and freshly ground pepper
4 oz (125 g) honey mushrooms
1/4 cup (50 mL) pomegranate juice
1/2 cup (125 mL) homemade or low-sodium chicken stock
1 tsp (5 mL) low-sodium soy sauce
1 Preheat oven to 400°F (200°C).

2 Combine 2 tbsp (25 mL) tarragon, Dijon, paprika, and 2 tbsp (25 mL) olive oil and rub all over chicken. Season with salt and pepper.

3 Pour remaining 1 tbsp (15 mL) oil over the base of a rimmed baking sheet and place chicken, skin-side down, on baking sheet. Oil a metal baking pan, smaller than the baking sheet, and place on top of chicken. Weight down with a brick or other heavy ovenproof object. Bake for 20 minutes, turn chicken skin side up, replacing weighted baking pan, and bake another 15 minutes. Remove weighted baking pan and bake for 10 minutes longer or until juices run clear. Remove from oven and place chicken on a carving board.

4 Drain all but 1 tbsp (15 mL) fat from baking sheet. Scrape remaining fat, juices and brown bits from baking sheet into a skillet. Add mushrooms to skillet and sauté for 2 minutes over medium-high heat or until softened. Pour in pomegranate juice, bring to a boil and boil for 2 minutes or until slightly thickened. Add chicken stock, soy sauce, accumulated chicken juices (from carving board) and half of remaining tarragon and boil for 4 minutes longer or until slightly thickened. Add remaining tarragon and stir to combine. Slice chicken down through the breast to divide into 2 and remove leg and thigh from each half. Serve with sauce.


SHARE