Festive Manhattan
Holiday 2020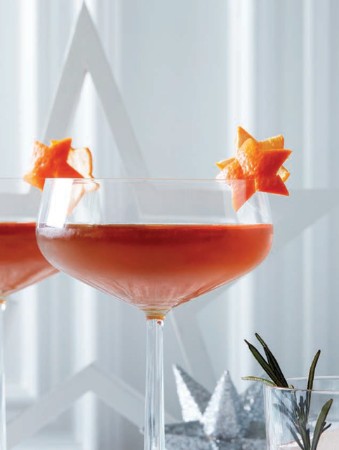 Festive Manhattan
Holiday 2020
BY: Charlene Rooke
Get smoky complexity, without the fuss of matches and lighters, by choosing craft cocktail bitters that incorporate smoked or charred and barrel-aged flavours.
2 cups (500 mL) rye
1 cup (250 mL) red (sweet) vermouth
1/2 cup (125 mL) water
1/4 oz Ontario craft cocktail bitters (such as barrel-aged or smoked flavours), or more to taste
8 or more tangerines, for garnish
1. In a large pitcher or measuring cup, mix together rye, vermouth, water and cocktail bitters. Taste and add more bitters if desired. Pour into a glass bottle and cover tightly. Refrigerate for up to 1 month.

2. To serve, carefully peel tangerines, keeping skin as intact as possible. (Reserve fruit for another use.) Using a sharp cookie cutter, cut peel into a star or other festive shape.

3. For each drink, pour 2 oz chilled Manhattan into a coupe glass and garnish with tangerine peel cut into festive shapes.
SHARE