Easy Almond-Topped Cookies
Holiday 2015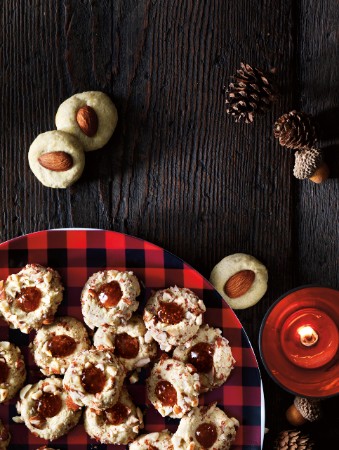 Easy Almond-Topped Cookies
Holiday 2015
BY: Monda Rosenberg
Prepare cookie dough in balls as in Moroccan Cookies (recipe follows). Do not coat with chopped nuts. Place on parchment-lined baking sheets and flatten cookies with your finger or tines of a fork to a ⅓-inch (8-mm) thickness. Press a whole un-blanched almond into the top of each. Bake as described in recipe.

Makes 48 cookies
MOROCCAN COOKIES

A bite of these delicate Middle Eastern spiced cookies with a sip of sherry instantly whisks one away to the casbah. Shape as thumb-print cookies, coat with chopped nuts and fill centres with chutney. Or make as regular small cookies and top with a whole unblanched almond (recipe above). Fortunately, they can be baked well ahead of a party and, as with most cookies, will keep in a sealed container at room temperature for at least a week, ever ready if someone pops in for a drink.

¾ cup (175 mL) unsalted butter,
at room temperature
½ cup (125 mL) icing sugar
2 cups (500 mL) all-purpose flour
1 tsp (5 mL) each of ground coriander, cardamom and salt
½ tsp (2 mL) each of curry powder and cinnamon
⅓ cup (80 mL) milk
¾ cup (175 mL) finely chopped skin-on almonds
1 egg white
1 tbsp (15 mL) water
Chutney or apricot or pepper jamfor filling
1 Preheat oven to 325°F (160°C).

2 Combine butter and icing sugar in bowl of a food processor. Pulse until blended. Ina bowl, stir flour with coriander, cardamom, salt, curry powder and cinnamon. Add about half to the butter mixture in food processor bowl. Pulse until blended. Add all remaining flour mixture and pulse until even in texture. Then, with machine running, slowly add milk through the feed tube just until the dough forms into a ball. You may not need all the milk. Use floured hands to form dough into a ball.

3 Place nuts in a small bowl. In another bowl, whisk egg white with 1 tbsp (15 mL) water. Using a round-shaped (rather than oval-shaped) tsp measuring spoon, scoop out a rounded amount, about ½ tbsp (7 mL) of dough. Roll into 1-inch (2.5-cm) ball. Coat ball with egg-white wash, then roll in nuts until evenly coated. Place on a parchment-lined baking sheet. Repeat with remaining dough, placing cookies about 1 inch (2.5 cm) apart.

4 Using your pinky finger or the end of a wooden spoon, make a deep indent in centre of each cookie.

5 Bake until cookie feels firm when pressed and the bottoms are lightly browned, from 17 to 22 minutes. While still warm, dent centres again to assure room for the chutney. Cool on pan 5 minutes, then remove to racks to cool completely. Serve right away or store in an airtight container at room temperature up to a week.

6 Just before serving, fill thumb-print centres with chutney or jam.
SHARE