Early Summer Salad Board with Two-Mustard Vinaigrette and French Herb & Cucumber Creamy Dressing
Early Summer 2020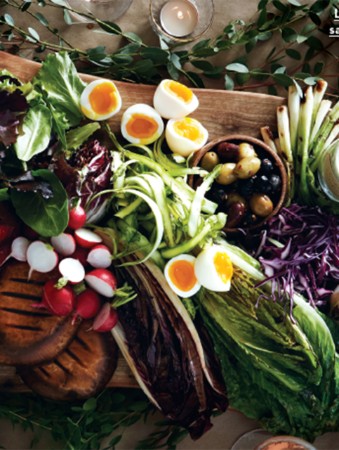 Early Summer Salad Board with Two-Mustard Vinaigrette and French Herb & Cucumber Creamy Dressing
Early Summer 2020
BY: Irene Matys
It's the season for fresh local produce, and what better way to enjoy the bounty then by offering your guests a beautiful array of ingredients for assembling their own salad. Serving two dressings gives your guests the option of a light or creamy finish for their customized salad. This salad board not only makes a stunning cen- trepiece but it also accommodates all palates and dietary restrictions for everyone to enjoy!
TWO-MUSTARD VINAIGRETTE
1 tbsp (15 mL) Dijon mustard
1 tbsp (15 mL) grainy mustard
3 tbsp (45 mL) shallots, finely chopped
3 tbsp (45 mL) Italian flat-leaf parsley, finely chopped
3 tbsp (45 mL) sherry vinegar
1 tbsp (15 mL) maple syrup
¾ cup (175 mL) extra virgin olive oil Salt and fresh ground pepper to taste
FRESH HERB & CUCUMBER CREAMY DRESSING
¾ cup (175 mL) plain greek yogurt
¼ English cucumber, unpeeled and grated 1 tsp (5 mL) garlic, minced
1 tbsp (15 mL) fresh dill, finally chopped 
1 tbsp (15 mL) fresh basil, finely chopped 
1 tbsp (15 mL) chives, finely chopped
2 tbsp (30 mL) extra virgin olive oil 
1 tbsp (15 mL) fresh lemon juice
1 tsp (5 mL) good-quality honey 
Salt to taste
SALAD BOARD
⅓ cup (80 mL) olive oil, plus more for grill
1 medium romaine lettuce, halved lengthwise 
1 Treviso, halved lengthwise
1 radicchio, quartered
2 medium green peppers 
2 medium red peppers
4 large portobello mushrooms, stems trimmed 
10 spring onions
5 large asparagus spears, woody ends removed 
1 medium carrot
¾ English cucumber
1 cup (250 mL) mixed olives
5 large eggs, soft-boiled for 7 minutes or to your preferred doneness
5 radishes, greens removed and halved 
3 cups (750 mL) spring salad mix
1 cup (250 mL) white cabbage, shredded 
1 cup (250 mL) red cabbage, shredded
1 To make two-mustard vinaigrette, in a medium bowl whisk together mustards. Add remaining ingredients and whisk well until creamy. Refrigerate until ready to use.
2 To make fresh herb and cucumber creamy dressing, place all ingredients in a medium bowl, whisk well until creamy then refrigerate until ready to use.
3 Preheat grill to high heat and grease with olive oil to avoid sticking.
4 On a large baking sheet, place romaine, Treviso and radicchio, cut-sides up. Add whole peppers, mushrooms and spring onions, ensuring no vegetables are overlapping. Drizzle with ⅓ cup (80 mL) olive oil. Set aside while you prepare the raw vegetables.
5 Make asparagus ribbons by holding the spear by the cut end with one hand, using a Y-peeler to slice away from your hand with steady, even pressure. Continue shaving the asparagus until the whole stalk has been ribboned. Repeat with remaining stalks. Add the tips that fall off in the ribbon mix.
6 Make carrot ribbons by laying carrot flat on a cutting Using a Y-peeler, peel along the length of the carrot to create a ribbon. Repeat the process, rotating the carrot as necessary, until the carrot has been peeled.
7 Make cucumber rounds by laying cucumber on cutting board, with a zagged Y-peeler, peel along the length of cucumber, rotating when peeling just to remove the skin of the cucumber only. Reserve edible ribbons for Cut remaining cucumber in ¼-inch (5-mm) rounds.
8 To grill vegetables, place whole peppers on hot grill on their side. Grill each side for 2 minutes until skin is slightly charred and peppers have softened, about 8 minutes in total.
9 Add spring onions and portobello mushrooms to grill and grill for 2 to 3 minutes per side until grill marks form and they have softened.
10 Place romaine and Treviso, cut-sides down, on grill and grill for 2 minutes on cut side only. Add quartered radicchio and grill each side for 1 minute.
11 Place grilled vegetables on baking sheet and cover with foil while you assemble board.
12 Using a long wooden charcuterie board (or multiple platters). Pour each dressing into a jar and place one on each side of the board. Add olives in a bowl in the centre of the board. Cut boiled eggs in half lengthwise and place them around the bowl of olives. Arrange the cooked and raw vegetables, spring mix and cabbage to fill the board.
SHARE