Duo of Roasted Peppers
Autumn 2012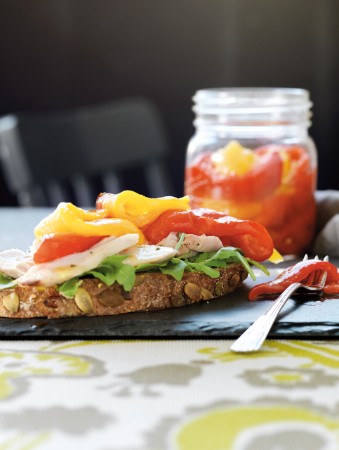 Duo of Roasted Peppers
Autumn 2012
BY: Tonia Wilson-Vuksanovic
Ideally, charring peppers is done on the barbecue, but if a barbecue is not available the peppers can also be blackened under the broiler of your oven. Line a baking sheet with peppers and place directly under the broiler.
45 peppers, half red and half yellow or orange
2 tsp (10 mL) cider vinegar per jar
2 tsp (10 mL) salt
1 cup (250 mL) olive oil, more or less may be needed
1 Preheat barbecue grill to high.

2 Using tongs, cover the grill with peppers, close the lid and begin to heat peppers. As soon as a pepper has become black on 1 side rotate it to begin charring the next side. All 4 sides of the pepper need to be blackened in order for them to peel easily. As a pepper is finished blackening, place it in a large bowl and replace its spot on the grill with another pepper. Continue process until all peppers are in the bowl. Cover bowl with plastic wrap and leave until cool enough to handle. Covering the peppers will also allow them to steam, which makes the skins come off more easily.

3 Begin peeling peppers by pulling out the stem, split peppers in half, discard the seeds and peel off the skin. Peel peppers over a small bowl to catch the juice that comes from within the pepper; it will be strained and used later. Place peeled peppers in another large bowl.

4 Bring a large pot of water to the boil. Boil 500 mL canning jars and lids for 5 minutes to sterilize, carefully drain from water, and begin filling jars with peppers. Peppers should come to 1 inch (2.5 cm) below the rim of the jar. Pack peppers in tightly and use a chopstick or other non-metallic item to push them down.

5 Place 2 tsp (10 mL) cider vinegar in each jar. Place reserved, strained pepper juice in large glass measuring cup, add enough water to the juice to make 1½ cups (375 mL) total. Add 2 tsp (10 mL) salt, and microwave until the salt has dissolved, about 1 minute.

6 Divide this liquid between all the jars. Finish topping off the jars with olive oil so that there is only ½ inch (1 cm) space to the rim of jar, gently pushing a chopstick or skewer between the peppers and the inner side of the jar to release any air pockets. Wipe rims clean.

7 Place tops and lids on jars and tighten.

8 Boil jars (make sure to have a full boil on high heat) in the same large pot with enough water to come to the top of the jars. Boil for 25 minutes. Use an additional pot if more space is needed.

Roasted peppers will last for 1 year.
Makes 6 or 7 jars, each 2 cups (500 mL)
SHARE