Dulce de Leche Flan
Summer 2010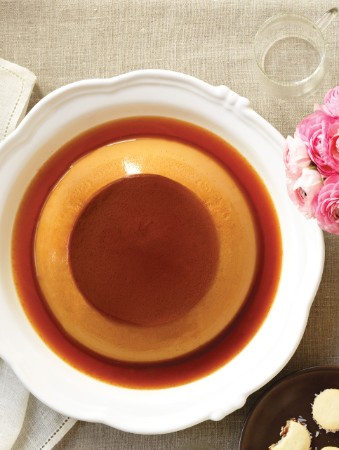 Dulce de Leche Flan
Summer 2010
BY: Lucy Waverman
This flan provides a double hit of caramel in both the topping and the custard. You can also bake this in an 8-cup (2-L) soufflé dish and you can buy the dulce de leche if you wish.
2½ cups (625 mL) milk
1 cup (250 mL) Dulce de Leche (recipe follows)
4 large eggs
4 large egg yolks
1 tbsp (15 mL) vanilla extract

Caramel
½ cup (125 mL) sugar
3 tbsp (45 mL) water
1 tbsp (15 mL) corn syrup
1. Combine milk and dulce de leche in a large pot over medium-high heat. Whisk until milk is hot and mixture is uniform. Remove from heat.

2. Beat eggs and yolks together in a large bowl. Add milk mixture to eggs in a slow steady stream, whisking constantly so that eggs don't curdle. Add vanilla. Set aside.

3. Preheat oven to 325°F (160°C).

4. Combine sugar, water and corn syrup in a heavy pot and place over medium-high heat.Stir until sugar has dissolved. Bring to a boil and boil for 5 to 7 minutes or until mixture is golden. Remove from heat. Immediately pour caramel into a 10-cup (2.5-L) stainless steel bowl, carefully swirling bowl so that caramel coats bottom.Let bowl sit until caramel has hardened.

5. Pour in custard. Place bowl in a metal baking pan. Pour hot water into the baking pan until it comes halfway up the outside of the bowl.Cover bowl with a sheet of parchment paper. Bake for 50 to 55 minutes or until custard is set but still has a slight wiggle in the centre. Chill.

6. Unmould onto a rimmed serving plate. If caramel sticks to mould, place directly on stove over very low heat for 1 minute or until loosened. Serve with fruit if desired.

Dulce de Leche
This is the real method of making dulce de leche. Another popular way of making it is to boil a can of condensed milk in a pot of water up to a ¼ inch (5 mm) from the top of the can for about 2 hours. I prefer not to make it this way as I'm always worried that the can will explode. It can be difficult to judge just when it is done, but it is quite forgiving. You want it to be about the consistency of lemon curd.

12 cups (3 L) whole milk
3½ cups (875 mL) granulated sugar
1½ tsp (7 mL) baking soda
1.  Combine milk and sugar in a large heavy pot that holds at least 6 quarts (6 L) (the mixture will foam way up) and bring to a boil. Add soda and turn heat to medium-low, stir until froth mostly subsides, about 15 minutes.

2.  Continue to simmer, stirring occasionally so that milk froth doesn't solidify (it may need to be skimmed after 30 minutes). Continue cooking until mixture begins to thicken—the whole process can take between 2 to 3 hours depending on the width of your pot and the heat of your stove. When the froth and the milk are about the same colour start to stir frequently until thickened, about
10 minutes. It will thicken more as it cools. Pour into a bowl (through a sieve if needed) to cool.
SHARE