Double Chocolate Hazelnut Butter
Autumn 2015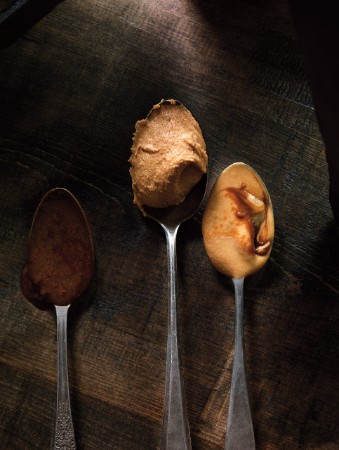 Double Chocolate Hazelnut Butter
Autumn 2015
BY: Heather Trim
To make this flavoured nut butter, follow the method for Peanut Butter (recipe follows) by toasting the nuts (times will vary based on the freshness of the nut), then process them while warm adding in the flavour enhancers featured in this recipe.

Nut butters are super easy to make at home, but you need a good-quality, powerful food processor such as a KitchenAid or a blender such as Vitamix, as the motor can burn out. If you are unsure, check with the manufacturer. In testing these recipes, my food processor yielded a slightly smoother result in less time. No matter which you use, be sure to stop processor or blender every minute and scrape down the mixture, which also allows the motor to cool slightly.
DOUBLE CHOCOLATE HAZELNUT BUTTER

Roast 1 cup (250 mL) hazelnuts. If nuts have skins, rub in a tea towel; discard skins. Process until nut butter begins to form. Add 1 tbsp (15 mL) coconut oil, 1 tbsp (15 mL) mild-flavoured honey, 4 tsp (20 mL) unsweetened cocoa powder and ¼ tsp (1 mL) salt. Add 1 tbsp (15 mL) cocoa nibs.
USES: Use in a panini with sliced bananas or dollop into pancake batter before cooking, then top with fresh berries.

PEANUT BUTTER

Whether you prefer crunchy or smooth, in less than 10 minutes you can turn peanuts into easy-to-make homemade peanut butter.
When shopping for peanuts, there's lot of choice, but look for unsalted, unroasted peanuts. That way you can control the salt and
bring out the flavour when roasting the peanuts at home. The peanut butter will last several days at room temperature (the advantage being easier spreading) or refrigerate for up to a month.

2 cups (500 mL) shelled raw unsalted peanuts
½ tsp (2 mL) kosher salt, optional
1 to 2 tbsp (15 to 30 mL) peanut, coconut or canola oil
⅓ cup (80 mL) coarsely chopped peanuts, optional
1 Preheat oven to 325°F (160°C). Place peanuts on baking sheet. Roast in centre of preheated oven, stirring once or twice until golden and fragrant, about 10 minutes.

2 Transfer nuts to food processor or blender while they are still warm. Process peanuts and scrape down sides every minute (this is important as it allows the mixer's motor to cool down) until finely ground and a nut butter begins to form, about 3 to 4 minutes. Add salt and 1 tbsp (15 mL) oil for a slightly creamier peanut butter; add remaining tbsp (15 mL) oil if desired. Continue to purée, stopping and scraping down sides every minute until smooth and creamy. The time will range, depending on blender and nuts used, from 1 to 5 minutes.

3 Pulse or stir in chopped peanuts, if making chunky peanut butter. Store for a couple of days at room temperature in an airtight container or refrigerate for a couple of weeks.
SHARE