Domaine de Canton and Strawberry Crème Brûlée
Early Summer 2016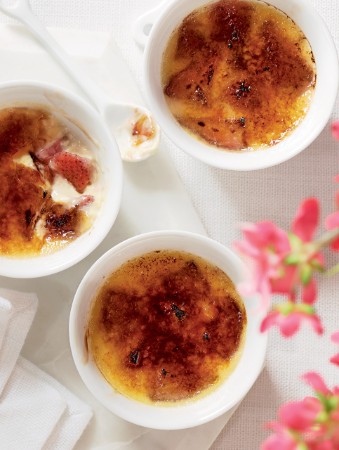 Domaine de Canton and Strawberry Crème Brûlée
Early Summer 2016
BY: Amy Rosen
A classic is always appreciated but it never hurts to update a perfect dessert now and then. With simple additions of fresh ginger, ginger liqueur and strawberries, this decadent treat is begging you to crack its amber-torched top and dive on in. You need a blowtorch for this recipe. You can either go top of the line, from a fancy kitchen shop, or a less expensive but equally useful industrial one from Canadian Tire. Tell the service reps whatyou're using it for and they'll set you up.
4 cups (1 L) 35% whipping cream
1 piece ginger, 2 inches (5 cm), roughly chopped
3 tbsp (45 mL) Domaine de Canton liqueur
8 egg yolks, at room temperature
⅔ cup (150 mL) plus about 8 tbsp (120 mL) sugar
8 oz (250 g) strawberries, hulled and sliced into quarters
1 Preheat oven to 300°F (150°C).

2 Pour cream into a medium saucepan over medium heat, add ginger, and gently heat, stirring often, until very hot and just a few bubbles break the surface. Remove from heat before it comes to a full boil. Stir in Domaine de Canton liqueur.

3 In a large bowl, whisk together egg yolks with ⅔ cup (150 mL) of sugar until sugar dissolves and mixture is smooth. Add a dash of the hot cream and whisk thoroughly. (This is called tempering the eggs). Put a kitchen towel under the bowl to help secure it in place while you whisk. Slowly stream the rest of the cream into the egg yolk mixture, whisking continuously. Mixture should thicken enough to coat the back of a wooden spoon. Strain through a fine sieve into a large measuring cup or pitcher.

4 Divide chopped strawberries among eight 6- to 8-oz (175- to 250-g) ramekins and then fill ramekins equally with custardy brûlée mixture.

5 Place filled ramekins in a large baking dish on the middle rack of the preheated oven. Using the same rinsed-out large measuring cup, carefully pour enough hot water into the corner of the baking dish, so that the water comes halfway up the ramekins. Do not allow any water to splatter into the custard-filled cups. Bake for 50 minutes, or until just set; the centres should jiggle a bit but you don't want browning on top.

6 Gently remove ramekins from water, pat dry, cover with plastic wrap and chill for at least 3 hours.

7 About 30 minutes before serving, remove crème brûlées from refrigerator and let sit. Top each with an even layer of remaining sugar, about 1 tbsp (15 mL) each. Fire up the blowtorch. One at a time, tilt and turn each ramekin, keeping the fire close to the sugar, using a sweeping motion so that sugar quickly melts and spreads and turns a dark amber colour. Let cool for 5 minutes before serving.
SHARE