Dark & Spicy Gingerbread Cake with Dulce de Leche Frosting
Holiday 2012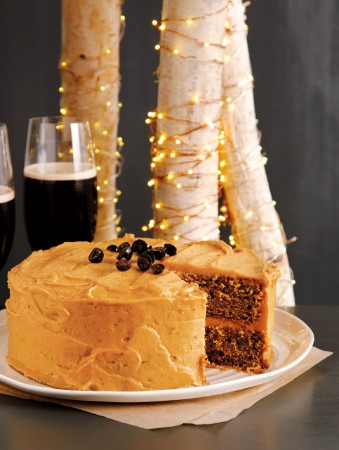 Dark & Spicy Gingerbread Cake with Dulce de Leche Frosting
Holiday 2012
BY: Monda Rosenberg
When you're in the mood for a hearty spice filled dessert, this one takes the cake. The rich molasses-laced cake is easy to make and the frosting is a snap thanks to a base of creamy butter and satiny dulce de leche that assures not only smoothness but that irresistible caramel taste—the perfect complement to the moist dense cake.
CAKE
3 cups (750 mL) all-purpose flour
1 tbsp (15 mL) baking powder
½ tsp (2 mL) baking soda
1 tbsp (15 mL) ground ginger
2 tsp (10 mL) ground cinnamon
1 tsp (5 mL) each ground allspice, nutmeg and coarsely ground black pepper
½ tsp (2 mL) each ground cloves and salt
1 cup (250 mL) unsalted butter, at room temperature
1½ cups (375 mL) dark brown sugar, not packed
3 eggs
½ cup (125 mL) fancy molasses
1 cup (250 mL) milk

DULCE DE LECHE FILLING AND FROSTING
1½ cups (375 mL) unsalted butter, at room temperature
1 cup (250 mL) dulce de leche
1 tsp (5 mL) pure vanilla extract
3½ to 3¾ cups (875 to 925 mL) sifted icing sugar
1 Preheat oven to 350°F (180°C). Spray or lightly oil two 9-inch (1.5-L) round cake pans.

2 Place flour in a medium bowl. Sprinkle with baking powder, baking soda, spices and salt. Stir or whisk until blended.

3 Place butter in a large mixing bowl and beat with an electric mixer until creamy. Add sugar and beat on medium for 3 minutes. Beat in eggs, then molasses. Don't worry if it seems curdled. Beating on low, gradually add about a third of flour mixture. Beat just until mixed, followed by half the milk. Repeat additions, ending with flour. It will be very thick.

4 Divide batter between pans. Roughly smooth the surface. To remove air pockets, bang pans on counter 5 to 6 times. Bake until centres seem set when lightly tapped and cake starts to come away from sides of pan, 30 to 35 minutes. Cool on a baking rack set on a counter for 5 minutes.Run a thin knife blade between cake and pan. Turn cakes out of pans and place on baking rack to cool. If making ahead, wrap when cool and leave at room temperature overnight.

5 For filling and frosting, beat butter in a bowl with an electric mixer until very creamy. Gradually beat in dulce de leche. Add vanilla. Gradually beat in enough icing sugar until thick enough to spread.

6 To assemble, place 1 cake, flat-side up, on a platter. Generously spread with filling, leaving a narrow border of cake around the edge. Top with the second cake, flat-side down, and gently press down. Smoothly spread remaining frosting over the sides of the cake, then the top. Swirl frosting if you wish. Cake can be garnished with chocolate-covered coffee beans or julienned slices of candied ginger grouped in the centre of the cake. If making ahead, refrigerate overnight but serve at room temperature.
SHARE