Cumin Carrot Coins
Spring 2006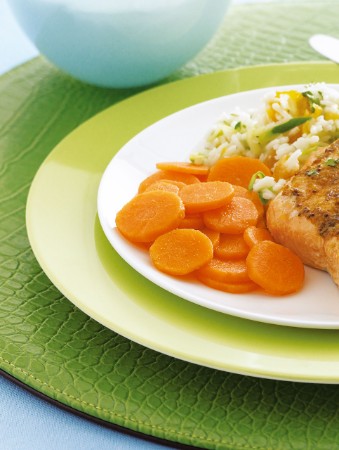 Cumin Carrot Coins
Spring 2006
BY: Emily Richards
Serve this quick little side dish along with the salmon for a full meal and colourful accompaniment. (Salmon recipe follows).
1 large carrot
1 tbsp (15 mL) butter
½ tsp (2 mL) ground cumin
¼ cup (50 mL) chicken or vegetable stock
Salt and pepper
1.  Peel and slice carrot into thin coin slices.

2.  Heat butter in small nonstick skillet over medium heat until melted. Add cumin and carrot slices. Stir to coat.

3.  Add chicken stock, pinch each of salt and pepper and bring to boil. Reduce heat and simmer for 5 minutes or until tender crisp.
Curry Ginger Salmon with Apricot-Studded Rice
2 tsp (10 mL) vegetable oil
1 tsp (5 mL) mild curry paste
1 tsp (5 mL) minced fresh ginger
¼ tsp (1 mL) black mustard seeds
Salt
1 boneless centre cut salmon fillet, skinned
½ cup (125 mL) water
¼ cup (50 mL) basmati rice
2 dried apricots, thinly sliced
1 tbsp (15 mL) grated zucchini (optional)
2 tsp (10 mL) butter
1 tbsp (15 mL) chopped fresh coriander
1. Preheat oven or toaster oven to 425ºF (220ºC).

2. Whisk together oil, curry paste, ginger, mustard seeds and pinch of salt in small bowl. Add salmon and turn to coat well.

3. Roast salmon on small parchment-paper-lined baking sheet for 12 minutes or until fish flakes easily when tested.

4. Bring water, rice and pinch of salt to boil in small saucepan. Reduce heat to low and cover and steam for 10 minutes or until water is absorbed. Remove from heat and add apricots and zucchini. Cover and let stand for 5 minutes. Add butter and fluff with fork.

5. Place rice on dinner plate and top with salmon fillet. Sprinkle with coriander and serve with carrot coins.
SHARE