Cuban Chicken & Rice
Spring 2017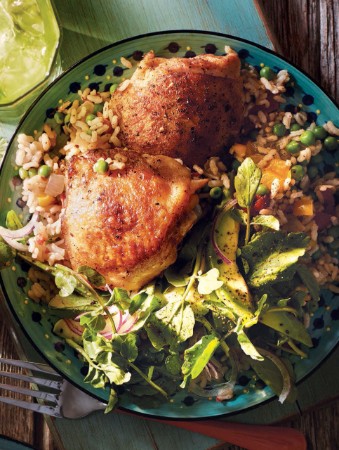 Cuban Chicken & Rice
Spring 2017
BY: Lucy Waverman
Chicken and rice is practically the official dish of Latin and South America. The ingredients change from country to country but essentially form a kind of paella. Some countries use a long-grain rice, but short-grain is used in Cuba, making it closer to the Spanish version. Use Spanish Valencia rice or Italian arborio. Annatto seeds, sometimes known as "poor man's saffron," are available at some supermarkets and all Latin-American stores. A little saffron, smoked paprika or even a pinch of turmeric can be substituted. The marinade is really a mojo sauce.
2 tbsp (30 mL) lime juice
2 tbsp (30 mL) orange juice
2 tbsp (30 mL) chopped garlic
1 tsp (5 mL) paprika
8 small chicken thighs, on bone with skin, about 2 lbs (1 kg) total
1 tbsp (15 mL) annatto seeds
¼ cup (60 mL) boiling water
Salt and freshly ground pepper
2 tbsp (30 mL) olive oil
2 cups (500 mL) chopped onion
1½ cups (375 mL) finely chopped red or yellow pepper
1 tsp (5 mL) ground cumin
½ cup (125 mL) chopped canned or fresh tomatoes
2 cups (500 mL) Spanish short-grain rice or arborio
3 cups (750 mL) chicken stock
½ cup (125 mL) lager
1 cup (250 mL) peas
½ cup (125 mL) sliced roasted pepper
1. Purée lime juice, orange juice, 1 tbsp (15 mL) garlic and paprika in a food processor or minichop. Pour over chicken thighs. Toss together and marinate for 1 hour on the counter or up to 4 hours refrigerated.

2. Stir annatto seeds into boiling water. Let soak for 20 minutes then strain and discard seeds, reserving soaking water.

3. Drain thighs and wipe off with paper towel. Season with salt and pepper. Heat olive oil in wide, deep skillet over medium heat. Add thighs (working in batches if your pan is smaller) and brown, skin-side down, about 4 minutes. Flip and brown on second side 2 to 3 minutes. Remove from skillet.

4. Drain fat, leaving 3 tbsp (45 mL) in skillet. Add onions and peppers, scraping up any brown bits from bottom of pan. Reduce heat to medium-low. Sauté for 6 to 8 minutes or until onions soften. Stir in remaining 1 tbsp (15 mL) garlic and cumin. Cook 30 seconds or until toasted and fragrant. Add tomatoes and fry slowly for another 2 to 4 minutes. Mixture should be thick.

5. Stir in rice, coating each grain with the sauce. Stir in chicken stock, beer and annatto soaking liquid, and bring to a boil. Reduce heat to medium-low. Return thighs, pushing them into the rice but not covering the skin. Simmer for 30 to 35 minutes uncovered or until chicken juices run clear and rice is cooked. Stir in peas and roasted pepper. Serve with the Avocado Salad.

AVOCADO SALAD

Pretty—and a perfect accompaniment to the chicken. Have the elements ready ahead of time but don't cut the avocado until right before you need it, to keep it from turning brown.

1 bunch watercress
3 tbsp (45 mL) avocado oil or olive oil
2 tsp (10 mL) lime juice
¼ tsp (1 mL) ground cumin
Salt and freshly ground pepper
3 ripe avocados
¾ cup (175 mL) thinly sliced red onion, about ½ a medium onion
2 tbsp (30 mL) chopped cilantro
1. Tear sprigs from watercress and place in a bowl. Whisk together oil, lime juice and cumin. Season with salt and pepper. Toss half of dressing with watercress and transfer to a platter. Peel and slice avocados and place over watercress. Spread onions over. Drizzle with remaining dressing and garnish with cilantro.
SHARE