Crispy Polenta Squares with Tonnato Sauce & Quick Pickled Shallots
Winter 2017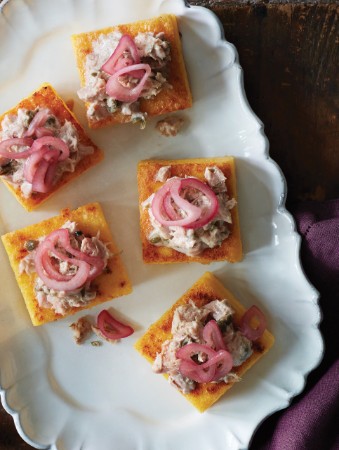 Crispy Polenta Squares with Tonnato Sauce & Quick Pickled Shallots
Winter 2017
BY: Chris Johns
Northern Italians love their polenta and these crispy squares make an ideal vessel for a rich, creamy topping like a thick tonnato sauce. This is a lighter version of the classic sauce that accompanies the Italian dish, vitello tonnato. While the traditional version is more like a mayonnaise, this is somewhere between that and a good tuna salad. Be sure to use the best-quality anchovies you can get hold of. The shallots add a sharp, sweet pungency and a bright pink element to the dish.
POLENTA
4 cups (1 L) water
1 tsp (5 mL) kosher salt
1 cup (250 mL) cornmeal polenta
¼ cup (60 mL) butter

SHALLOTS
2 large shallots
1 tsp (5 mL) salt
½ cup (125 mL) red wine vinegar
1½ tbsp (22 mL) white sugar
5 peppercorns
1 bay leaf

TONNATO SAUCE
2 tins (each 226 g) good-quality tuna packed in oil
2 tbsp (30 mL) mayonnaise
2 whole oil-packed anchovies, minced
1 tbsp (15 mL) capers, minced
juice from ½ lemon
Salt and pepper
1 tbsp (15 mL) olive oil
1. In a medium saucepan bring water to a boil. Add salt.

2. Slowly pour polenta into the boiling water, whisking constantly to make sure there are no lumps. Reduce heat to low and simmer gently, stirring constantly, for 5 minutes.

3. Cover and continue to simmer for 30 minutes, stirring every 5 minutes. When the polenta is cooked, stir in the butter and continue to stir until it has completely melted.

4. Spread the polenta on a cookie sheet and allow to cool at room temperature or in the refrigerator for a couple of hours.

5. Peel and slice the shallots into 1/8-inchthick (3-mm) slices. Carefully separate the slices into rings and add to a small nonreactive bowl. Sprinkle the shallots with salt and mix carefully. Allow the salt to soak into the shallots while you prepare the vinegar mixture.

6. Combine red wine vinegar, sugar, peppercorns and bay leaf in a small saucepan and bring to a boil. Reduce to a simmer and stir until the sugar dissolves, about 1 minute.

7. Pour the hot pickling liquid over the sliced shallot rings and allow to cool to room temperature, about half an hour or up to 24 hours.

8. When the polenta is cool and firm, slice into 2-inch (5-cm) squares. There should be about a dozen squares. At this point you can cover and store the polenta for up to 24 hours.

9. Drain the 2 tins of tuna along with their oil into a medium bowl. Stir in the mayonnaise, minced anchovies and minced capers. Stir to combine.

10. Add lemon juice, salt and pepper to taste. Give one final stir.

11. Heat a medium-size nonstick pan for a minute over medium-high heat and add 1 tbsp (15 mL) of olive oil. When the oil is hot add the polenta squares (depending on the size of your pan you may need to do this in 2 batches) and sear until golden, about 3 minutes. Flip and sear again. Set squares aside on a serving plate.

12. Top each polenta square with 1 tbsp (15 mL) of the tonnato sauce and a few pickled shallot rings.


SHARE