Crispy Pesto Pork Cutlets
Spring 2012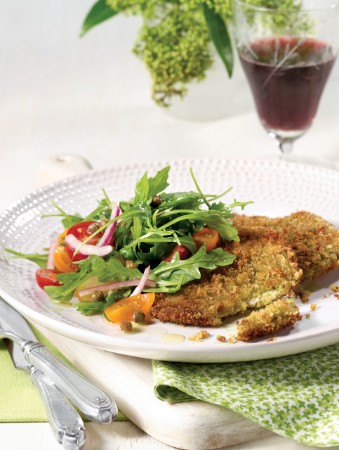 Crispy Pesto Pork Cutlets
Spring 2012
BY: Monda Rosenberg
Spring brings a lightening-up, not only for sweater layering but on our dinner plates as well. Spreading slim pork cutlets with garden-fresh-tasting pesto, then covering with airy panko crumbs, produces a fancy professional-looking cutlet. Since these can be coated ahead and fast fried or baked— without any baby-sitting needed—they're ideal for no-fuss entertaining yet easy enough for weeknights. Matched with our vibrant Mediterranean-style salad, this combo is sure to garner oohs and aahs.
6 to 8 thin pork cutlets or boneless thin-cut  pork loin centre chops, about 1 lb (500 g)
1½ cups (375 mL) panko crumbs
½ to ¾ cup (125 to 175 mL) homemade or good-quality store-bought pesto
1 tbsp (15 mL) each of butter and olive oil (optional)
1 Trim any fat from cutlets. If they are more than ¼ inch (5 mm) thick, lay a large piece of plastic wrap on a cutting board. Place 2 cutlets on the wrap, leaving a generous space between them. Cover with another piece of plastic wrap. With a meat mallet or bottom of a heavy skillet, pound to an even thickness. Repeat with remaining cutlets.

2 Spread crumbs in a shallow dish just large enough to hold 1 cutlet. Stir pesto, then dab a rounded teaspoonful (7 mL) on top of 1 cutlet. The amount needed depends on the size of the cutlet. Spread to cover, right to the edges. Place pesto-side down in crumbs and firmly press down. Spread the same amount of pesto overtop cutlet. Turn over and press into crumbs. Lift cutlet. Sprinkle crumbs over any bare areas, and place on a baking rack. Repeat with remaining cutlets, redistributing crumbs in the dish when necessary and adding more if needed. Cutlets can be cooked right away, but if first left to dry for a half hour they will have a crispier coating.

3 Bake or fry cutlets. To bake, preheat oven to 375°F (190°C). Place an oven rack in the bottom position in oven. Arrange cutlets on a rack set on a large baking sheet. You may need 2 baking sheets. To increase crispiness, lightly spray the cutlets with cooking spray or use a pastry brush to dab with vegetable oil. Bake, uncovered, on bottom rack of oven until golden and crispy looking, 25 to 30 minutes.Do not turn.

4 To fry, heat 1 tbsp (15 mL) each of butter and oil in a wide skillet over medium heat. Add 2 to 3 cutlets and cook until golden, 3 to 5 minutes per side. If dark browning appears, reduce the heat. Place on a dish in a warm oven. Repeat with remaining cutlets, adding more oil and butter as needed. Serve with Heirloom Tomato Caper Salad (recipe follows).

HEIRLOOM TOMATO CAPER SALAD
What could be more natural than pairing juicy baby tomatoes with salty capers, then brightening up with tangy-sweet balsamic. Handfuls of forest green arugula, tossed in at the last minute, round out the flavour profile with a burst of peppery taste.

3 cups (750 mL) heirloom cherry tomatoes, preferably a mix of colours
3 thin slices of red onion
2 tbsp (30 mL) drained capers
2 tbsp (30 mL) olive oil
2 tbsp (30 mL) white balsamic vinegar
½ tsp (2 mL) sugar
Generous pinches of salt
3 cups (750 mL) arugula
¼ cup (60 mL) shredded fresh mint or basil leaves or a mix
1 Halve, quarter or roughly slice tomatoes. Place in a bowl. Cut onion slices into quarters, then separate pieces. Add to tomatoes along with capers, oil, vinegar, sugar and salt. Gently toss to coat. Taste and add more sugar or salt if needed. Serve right away or leave at room temperature up to 4 hours. It may water out a little as it sits.

2 Just before serving, stir in the arugula and mint.
SHARE