Creamy Scalloped Root Veggies with a Crunchy Panko Crust
Autumn 2019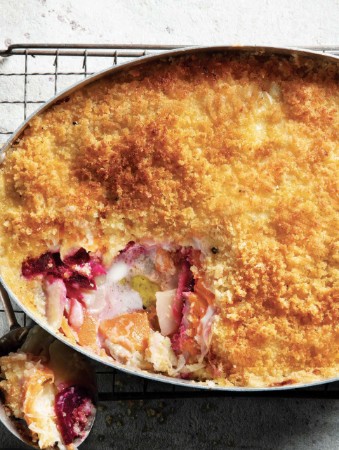 Creamy Scalloped Root Veggies with a Crunchy Panko Crust
Autumn 2019
BY: Signe Langford
This recipe calls for a fair bit of slicing, so a good, sharp chef's knife is essential. But take one bite of this creamy, cheesy, heartwarming classic, and all that cutting will have been worth it. The béchamel makes this dish super luxurious and worthy of the Thanksgiving table. Try to slice all the roots the same thickness so they cook at the same time—about ¼ inch (5 mm) thick is good.
¼ cup plus 2 tbsp (60 mL plus 30 mL) butter, divided, plus enough for greasing the casserole dish
3 tbsp (45 mL) flour, divided
¾ tsp (4 mL) sea salt, divided
¾ tsp (4 mL) pepper, divided
¼ cup (60 mL) medium dry sherry
2 cups (500 mL) 10% or 18% cream
¼ tsp (1 mL) nutmeg
1 cup (250 mL) panko bread crumbs
2 large Yukon Gold potatoes, scrubbed, sliced
1 sweet potato, peeled, sliced
1 large beet, peeled, sliced
1 celeriac (celery root) peeled, sliced
1 cooking onion, thinly sliced
2 ¼ cups (560 mL) grated cheese—a combination of Swiss and old cheddar is good
1 Preheat oven to 350°F (180°C).
2 Liberally butter a casserole or roasting pan, about 9 x 11 inches (23 cm x 28 cm); set aside.
3 Into a medium saucepan over medium-low heat, add 2 tbsp (30 mL) of the butter. When melted, add 2 tbsp (30 mL) flour and ½ tsp (2 mL) each salt and pepper and stir continuously as it thickens, using a_whisk, about 1 minute.
4 Add the sherry, whisk, and allow the alcohol to cook off, about 30 seconds.
5 Add the cream, whisking constantly; increase the heat to medium and continue to cook until the sauce begins to bubble and thicken. Add nutmeg and stir in; set aside when the consistency of a cheese sauce.
6 In a heatproof bowl, melt ¼ cup (60 mL) butter, then add the panko crumbs. Season with remaining ¼ tsp (1 mL) salt and ¼ tsp (1 mL) pepper, toss to evenly coat; set aside.
7 To slice the root veggies, first cut in half lengthwise then lay down on cutting board, cut-side down, then slice.
8 In a small bowl, toss the thinly sliced onion with remaining 1 tbsp (15 mL) of the flour to coat. This will help sop up some of the onion juice while cooking.
9 Arrange the sliced root veggies into the buttered casserole, starting with the celeriac, then beet, half of the onion and ⅔ cup (150 mL) of the béchamel sauce. Next, layer in the Yukon gold, sweet potato and the remaining onion. Top with remaining béchamel sauce and sprinkle evenly with the cheese. Pop into the oven and bake for about 30 minutes.
10 Remove from oven and cover the top with the panko crumbs and pop back into the oven for another 15 to 20 minutes or until the panko is golden, and a knife slides through the layers easily. All ovens are different: if the panko is browning too quickly, loosely cover the dish with a sheet of tin foil. Don't wrap—steam needs to escape!
SHARE