Cranberry Rosewater Gin Fizz
Holiday 2020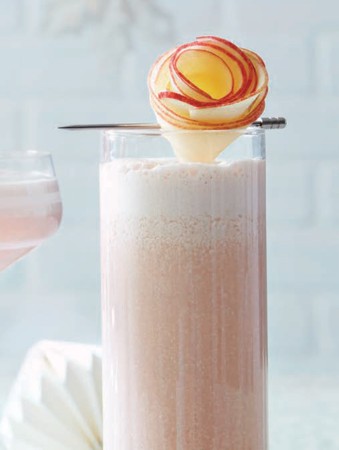 Cranberry Rosewater Gin Fizz
Holiday 2020
BY: Charlene Rooke
Rosewater (available at Middle Eastern, baking and gourmet stores) is a small but mighty addition: start with a little, and add more if you love the flavour.
1½ oz gin
1 egg white (from pasteurized eggs)
1/4 tsp (1 mL) rosewater, or more to taste
1/2 oz freshly squeezed lemon juice
1/2 oz freshly squeezed lime juice
1/2 oz Cranberry Spice Syrup (recipe follows)
1 oz heavy whipping cream
2 ice cubes, lightly cracked or crushed
1 to 2 oz club soda or soda water
Apple Rosette, for garnish (instructions below)
1. Add gin, egg white, rosewater, citrus juices and syrup to cocktail shaker. Dry shake (without ice), using both rotating and up-and-down motions, for 2 minutes, or until shaker feels light and its contents are less liquid. Add cream and ice; shake vigorously for an additional 1 to 2 minutes or until very foamy.

2. Strain into a highball glass until about two-thirds full. Slowly top with 1 to 2 oz soda water, until foam is at glass rim.

3. Garnish with an Apple Rosette speared by a cocktail pick or 2 toothpicks perched across the rim of glass.
CRANBERRY SPICE SYRUP

Reducing cranberry juice down to a syrup, simmered with spices, creates a sweetener that adds complexity and festive spirit to the finished drink. Use a dash of extra syrup to flavour holiday salad dressings or vegetable glazes.

4 cups (1 L) cranberry juice or cocktail (not an unsweetened variety)
1 star anise pod
2 cardamon pods, lightly crushed
4 allspice berries, lightly crushed
4 whole cloves
1 cinnamon stick
1. In a small saucepan, bring cranberry juice or cocktail to a boil over high heat. Add remaining ingredients, reduce heat to medium-high and boil for 20 minutes, or until it has reduced about three-quarters and has a syrupy consistency. Cool.

2. Strain syrup through a fine mesh sieve then pour into a clean glass or plastic bottle. Refrigerate for up to 2 weeks.
Makes 1 cup (250 mL), enough for 16 drinks
APPLE ROSETTES

1. Mix juice of 1 lemon into a large bowl half-full of water. Cut a soft-fleshed apple (such as Royal Gala or Pink Lady) into quarters and symmetrically pare out core. Use a mandoline or sharp knife to make very thin (1/8-inch/3-mm), or as paper-thin as possible, slices. Drop slices in lemon water to prevent browning.

2. Lay out 6 or more slices, laid with small ends overlapping and peel-sides facing the same way then roll tightly from core, into a cylinder or cone shape. (If slices are thicker, or break/ crack, microwave bowl for 1 to 3 minutes until soft enough to roll.) Fasten at base with 2 toothpicks in an X-shape, or with a single cocktail pick. Fluff "petals" to desired shape. Use immediately or store in a closed container for up to 30 minutes.

Makes 12 to 16 garnishes
SHARE