Cranberry Margarita
NOVEMBER 2021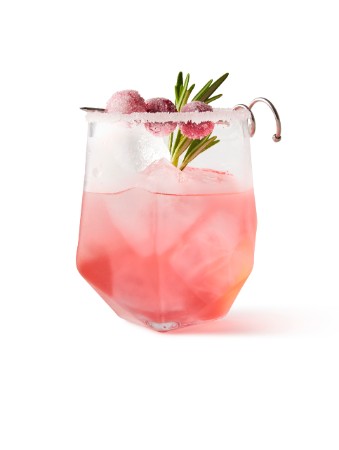 Cranberry Margarita
NOVEMBER 2021
This summery classic gets a festive twist thanks to the addition of cranberries and rosemary.
Kosher salt for rimmer
Lime wedge for rimmer
2 oz tequila
1 oz lime juice
¾ oz Cranberry Rosemary Syrup (see below)
3 Sugared Cranberries for garnish (see below)
Rosemary sprig for garnish
Place salt on a small plate. Rub a lime wedge around outside rim of a chilled margarita or rocks glass, then press the dampened rim into salt. Pour tequila, lime juice and syrup into a cocktail shaker. Fill with ice. Shake vigorously then strain into prepared glass filled with ice. Garnish with a skewer of sugared cranberries and rosemary sprig.
Place 1¼ cup (310 mL) water, 1 cup (250 mL) sugar, ¾ cup (175 mL) fresh or frozen cranberries and 1 orange peel strip in a small pot. Cook over medium heat, stirring occasionally, until steaming and sugar is dissolved. Reduce heat to medium-low. Cook, stirring and pressing cranberries gently with spoon until flavours and colour infuses mixture, about 5 minutes. Add a large rosemary sprig, remove from heat and let cool. Strain into a resealable jar. Reserve cranberries. If making ahead, syrup will keep well, covered and refrigerated, for up to 1 week. Place ¾ cup (175 mL) sugar in a bowl. Using a slotted spoon, add a few cranberries at a time to sugar. Shake and turn to coat all cranberries evenly. Remove cranberries to a parchment-lined baking sheet. Let dry at least 2 hours.

Makes approximately 1½ cups (375 mL) syrup and a handful of sugared cranberries for garnishing
SHARE