Cranberry-Glazed Cocktail Meatballs
Holiday 2004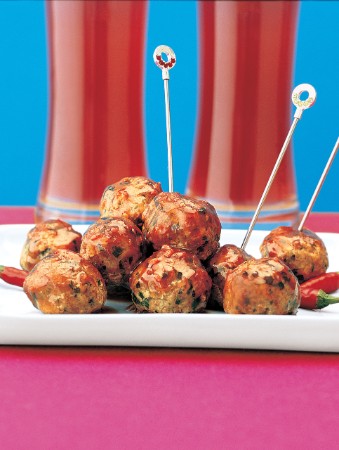 Cranberry-Glazed Cocktail Meatballs
Holiday 2004
BY: Dana Speers
Cranberry sauce lends a tangy kick to the Asian-inspired glaze on these garlicky meatballs. If you prefer your meatballs less spicy, cut the chili paste in half.
Olive oil, for oiling baking tray and brushing meatballs
¾ lb (375 g) ground pork
½ cup (125 mL) chopped Italian parsley
2 cloves garlic, minced
One 1-inch (2.5-cm) slice French bread, crusts removed, soaked in water and squeezed dry
½ tsp (2 mL) 5-spice powder
1 large egg, beaten to mix
Salt and freshly ground pepper


Cranberry Glaze
½ tsp (2 mL) olive oil
1 clove garlic, minced
1 tsp (5 mL) chili paste
¼ tsp (1 mL) sesame oil
¾ cup (175 mL) canned jellied cranberry sauce
4 tsp (20 mL) soy sauce
1 tsp (5 mL) honey
1 tsp (5 mL) oyster sauce
1. Preheat oven to 400ºF (200ºC) and brush a baking sheet with olive oil.

2. In a medium bowl combine pork, parsley, garlic, soaked bread, 5-spice powder, egg and salt and pepper to taste. Mash together with hands to mix well. With wet hands, roll the mixture into 24 equal balls, about 1-inch (2.5-cm) each. Place meatballs on greased baking sheet and brush lightly with olive oil. Bake meatballs 15 minutes and flip them over (you may need to use a metal spatula to unstick meatballs from pan). Turn on broiler and continue cooking meatballs for 5 to 10 minutes or until crispy and cooked to desired doneness.

3. To make the cranberry glaze, heat olive oil in a small saucepan over medium-low heat. Add garlic and cook for about 5 minutes or until softened but not browned. Whisk in chili paste, sesame oil, cranberry sauce, soy sauce, honey and oyster sauce. Simmer 2 to 3 minutes.

4. Remove meatballs from oven and transfer to a large bowl. Pour glaze over meatballs and toss to coat. Skewer meatballs on a cocktail pick or toothpick and place on a platter. Serve warm.
Makes 24 meatballs, serves 6
SHARE