Crab Toast Crescents
Winter 2015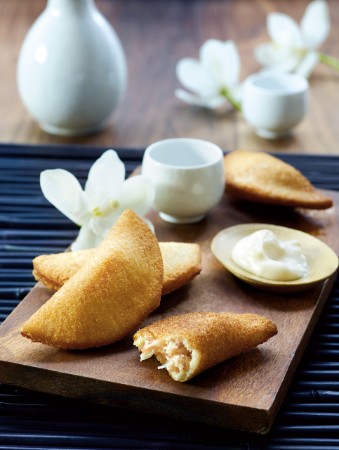 Crab Toast Crescents
Winter 2015
BY: Janice Poon
Inspired by shrimp toast, the Cantonese dim sum favourite, and by seafood motoyaki, theJapanese treat. No one will believe these tasty dumplings are made using ordinary supermarket white bread.
2 loaves white sliced bread
½ cup (125 mL) mayonnaise
4 tsp (20 mL) miso paste
1 egg white, slightly beaten
14 oz (425 g) frozen crab meat, thawed
Oil for shallow frying
1 To prepare wrappers, cut each slice of bread into a round with a 3¼-inch (8.5-cm) cutter. Using a rolling pin, gently flatten each round to about ⅛-inch (3-mm) thickness.

2 To prepare filling, in a medium-size bowl, combine mayonnaise and miso and mix thoroughly. Add egg white and mix thoroughly. Stir in crab.

3 To form dumplings, place about 2 tsp (10 mL) filling in the centre of a bread round. Fold in half into a half-moon and pinch edges together firmly. If edge does not stick together, brush a bit of egg yolk where edges meet and pinch together. Repeat with remaining bread rounds and filling.

4 Over medium-high heat in a heavy deep skillet pour oil to about a 1½-inch (4-cm) depth. When oil reaches 375°F (190°C) add 3 to 5 dumplings to pan and fry until golden, turn over and brown the other side (about 30 seconds per side). Remove from pan to drain on paper towels.
SHARE