Crème Brûlée Pudding Shortbread
Holiday 2012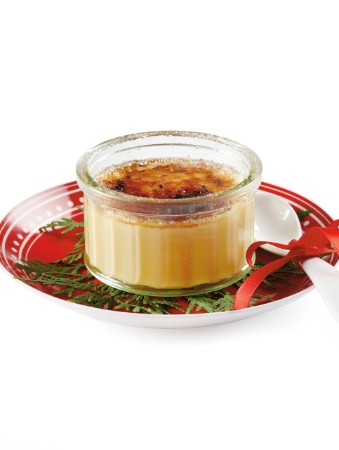 Crème Brûlée Pudding Shortbread
Holiday 2012
BY: Lucy Waverman
Whisk together 1 cup (250 mL) hot whipping cream with 4 egg yolks and ¼ cup (60 mL) granulated sugar. Place Lucy's (cooked) shortbread cookie at the base of 4 buttered custard cups or ramekins. Pour the brûlée mixture over, place in a roasting tin and pour hot water halfway up the sides of the ramekins. Bake for 30 to 35 minutes at 300°F (150°C). The cookie rises up and becomes pudding-like. Cover with granulated sugar and place under the broiler until it is golden. Cool.
LUCY'S SHORTBREAD
¾ cup (175 mL) granulated sugar
2½ cups (625 mL) all-purpose flour
¾ cup (175 mL) rice flour
1 tsp (5 mL) salt
1½ cups (375 mL) cold unsalted butter, cubed
1 Preheat oven to 275°F (140°C).

2 Add sugar into food processor. Turn on and off twice to grind sugar a little finer.

3 Add flour, rice flour and salt to food processor. Add cold butter and process until combined. Turn food processor off before dough forms a ball.

4 Scrape mixture into a bowl and knead together gently to form dough. Divide dough into thirds and roll out each third into circles about ½ inch (1 cm) thick.

5 Using a 2-inch (5-cm) cookie cutter, cut dough into rounds. Place on ungreased cookie sheet and prick each round with a fork.

6 Bake in centre of oven for 25 to 35 minutes or until a creamy colour. The shortbread will not be firm. It hardens as it cools.

7 Remove from oven and cool on cookie sheets. Keeps in airtight containers for up to a month.
SHARE