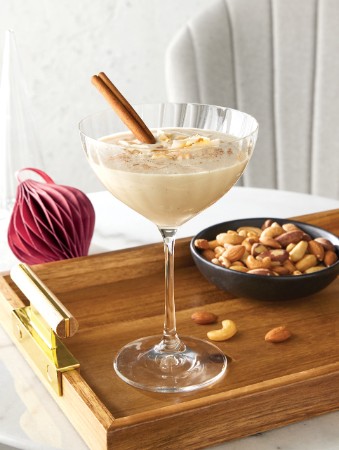 Taking inspiration from the classic Puerto Rican Christmas sipper, this rum-based cocktail is reminiscent of eggnog but with loads of luxurious coconut flavour.
354 mL can evaporated milk
300 mL can sweetened condensed milk
290 mL cream of coconut
½ 400 mL can coconut milk
6 to 8 oz white, spiced or gold rum
2 tsp vanilla extract
¼ tsp ground cinnamon, plus more for garnish
Generous pinch of nutmeg, plus more for garnish
Toasted coconut shavings, for garnish (optional)
Cinnamon sticks, for garnish (optional)
Pour evaporated milk, condensed milk, cream of coconut and coconut milk into a blender. Blend for a couple of minutes. Add rum, vanilla, cinnamon and nutmeg. Pulse to mix. Cover and refrigerate until chilled. If making ahead, mixture will keep well, refrigerated for up to 3 days.

Serve in rocks glasses or tulip or balloon wine glasses. Garnish with coconut shavings and a sprinkle of cinnamon. Top each with a cinnamon stick. Freshly grate a little nutmeg overtop.


Makes 5 cups (1.25 L) for TK servings
SHARE