Classic Lemon Tart
Early Summer 2009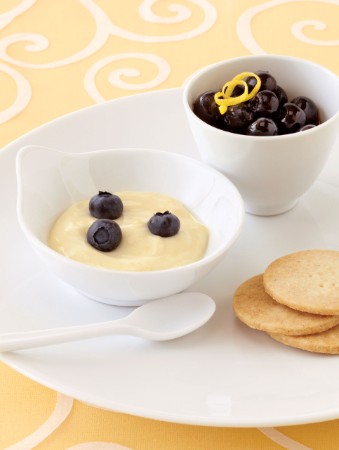 Classic Lemon Tart
Early Summer 2009
BY: Julia Aitken
The flavours of a French-style lemon tart have never been so easy to achieve. For best results, use freshly squeezed lemon juice for the easy lemon pudding, and make sure you use condensed milk, which is sweet and syrupy, not evaporated milk, which is runnier and unsweetened.
Cardamom Cookies
1 cup (250 mL) all-purpose flour
1⁄3 cup (75 mL) rice flour
1 tsp (5 mL) ground cardamom
Pinch salt
2⁄3 cup (150 mL) unsalted butter, softened
1⁄3 cup (75 mL) granulated sugar

Marinated Blueberries
2 cups (500 mL) blueberries
3 tbsp (45 mL) granulated sugar
3 tbsp (45 mL) water
Two 3-inch (8 cm) strips lemon rind
1⁄4 cup (50 mL) blackcurrant nectar, such as Ribena

Easy Lemon Pudding
1 can (300 mL) condensed milk
1 1⁄4 cups (300 mL) sour cream
4 tsp (20 mL) finely grated lemon zest (about 2 lemons)
2⁄3 cup (150 mL) freshly squeezed lemon juice (about 3 lemons)

Garnish
18 blueberries
6 curls lemon zest

Serve With
6 oz (175 mL) Limoncello liqueur
1. For cardamom cookies, whisk together all-purpose flour, rice flour, cardamom and salt in a small bowl; set aside. Ina medium bowl and using an electric mixer, beat butter and sugar until very pale and fluffy. Gradually stir flour mixture into butter mixture until well combined. Turn dough out onto work surface; knead gently until dough holds together. Pat into a disc, about1⁄2 inch (1 cm) thick. Wrap in plastic wrap; refrigerate for 30 minutes.

2. Line a large baking sheet with parchment paper; set aside. On a lightly floured surface, roll out dough to 1⁄4-inch (5-mm) thickness. Using a 2-inch (5-cm) cookie cutter, cut out about 18 rounds from dough, re-rolling trimmings as necessary. Arrange cookies 1 inch (2.5 cm) apart on prepared baking sheet. Prick cookies 2 or 3 times with the floured tines of a fork. Refrigerate for 30 minutes.

3. Heat oven to 325°F (160°C).
4. Bake cookies for 14 to 16 minutes until undersides are lightly golden. Let cool on baking sheet on a wire rack for 5 minutes. Remove cookies from baking sheet; let cool completely on wire rack. Store in an airtight container.

5. For marinated blueberries, rinse and drain blueberries; put in a shallow non-reactive dish.

6. In a small saucepan over medium heat, bring sugar, water and lemon rind to a boil. Pour syrup and lemon rind over blueberries. Add blackcurrant nectar; stir gently. Cover and let stand at room temperature for 2 hours.

7. For easy lemon pudding, whisk together condensed milk, sour cream and lemon zest in a medium bowl until well combined. Gradually beat in lemon juice until well combined. Continue beating until mixture thickens slightly. Spoon pudding into six3⁄4-cup (175-mL) dessert bowls, dividing evenly. Cover each pudding with plastic wrap and refrigerate until chilled, about 3 hours.

8. To serve, garnish each pudding with 3 blueberries; set 1 pudding on each of 6 individual dessert platters or plates. Spoon marinated blueberries and their juices into 6 small bowls, dividing evenly; garnish each portion with a curl of lemon zest. Set a dish of marinated blueberries beside each pudding, along with 3 cookies and a shot glass of Limoncello.
SHARE