Classic Canadian Burger with Beer-Braised Onions and Cheddar
JULY 2017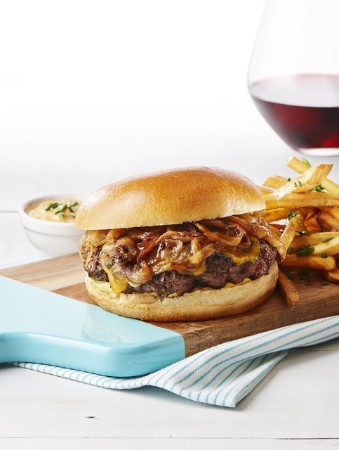 Classic Canadian Burger with Beer-Braised Onions and Cheddar
JULY 2017
BY: Ruth Gangbar
Serve with your favourite accompaniments, on grilled buns or bread.
1 tbsp (15 mL) butter
1 large onion, thinly sliced
1 tbsp (15 mL) sugar
¾ cup (180 mL) beer
1½ lb (750 g) freshly ground beef (sirloin or round)
2 cloves garlic, minced
¼ cup (60 mL) finely diced red pepper
¼ cup (60 mL) beer
2 tbsp (30 mL) dijon mustard
Salt and freshly ground pepper to taste
2 cups (500 mL) grated cheddar
1. To prepare beer-braised onions, melt butter in a large heavy skillet. Add the onions and cook while stirring frequently over medium heat for 5 to 6 minutes, or until tender. Add ¾ cup (180 mL) beer and the sugar. Cook until beer is absorbed and the onions become lightly browned, about 15 minutes.

2. To prepare burgers, preheat the barbeque on high. In a large bowl, gently but thoroughly combine the beef, garlic, red pepper, ¼ cup (60 mL) beer, dijon, salt and pepper. Form into 4 patties,, about 1-inch (2.5 cm) thick, and place on the grill, turning heat down to medium. Grill them for 4 to 6 minutes per side until nearly the desired doneness. Top each burger with ½ cup (125 mL) grated cheese, and heat until slightly melted. Serve on toasted buns and top each with beer-braised onions.
SHARE