Cider-Roasted Turkey
Autumn 2015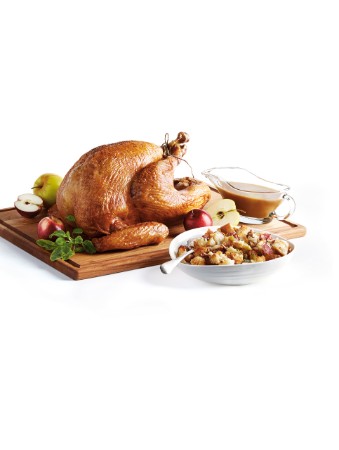 Cider-Roasted Turkey
Autumn 2015
BY: Tonia Wilson-Vuksanovic
Roasting a turkey can be quite simple to do.The most important tip is always to use a meat thermometer—it will give you confidence that your bird will turn out succulent and juicy. The cider used in roasting helps give a delicious pan gravy in the end, while the apples in the stuffing are another nod to the comforting flavours of fall.
10 slices of bacon, cut into
½ inch (1 cm) pieces
13 to 14 lbs (6 to 6.5 kg) whole turkey; neck and liver removed from cavities; reserve neck
2 onions, peeled and quartered
3 carrots, cut into 2 inch (5 cm pieces)
2 celery stalks, cut into 2 inch (5 cm pieces)
5 cloves garlic, peeled and left whole
2 tbsp (30 mL) fresh sage, coarsely chopped
Salt and freshly ground pepper to taste
3 tbsp (45 mL) unsalted butter plus ¼ cup (60 mL) for gravy
3 cups (750 mL) hard cider
3 cups plus more (750-plus mL) water
¼ cup (60 mL) all-purpose flour
1 Preheat oven to 325°F (160°C).

2 In a medium saucepan, cook bacon pieces over medium-high heat until fat has rendered and bacon is nicely browned, about 10 minutes.

3 With a slotted spoon, carefully remove bacon and set a side for stuffing. Place 3 tbsp (45 mL) of rendered bacon fat into a large roasting pan, discard leftover fat, and reserve saucepan to make stuffing.

4 Into the roasting pan place turkey neck, onions, carrots, celery, garlic cloves and sage. Season generously with salt and freshly ground pepper. Stir to combine.

5 Being careful not to tear the skin, gently loosen it from the breast meat and place 1 tbsp (15 mL) of butter under the skin of each breast. Smear the remaining 1 tbsp (15 mL) butter over entire turkey. Season turkey generously inside and out with salt and pepper.

6 Place roasting rack over vegetables and place turkey onto rack. Roast uncovered in middle of a preheated oven for 30 minutes or until the vegetables and turkey brown slightly; do not let vegetables burn.

7 Remove pan from oven; carefully add cider and 2 cups (500 mL) water to pan. Loosely cover the turkey with foil and return to oven. Roast for 2 hours, basting once each hour and adding an additional cup of water to pan when needed. Important: never let the bottom of pan dry out.

8 After 2 hours, remove foil and continue to roast turkey until a meat thermometer inserted in the thickest part of the thigh reads 170°F (77°C), about 30 more minutes. When cooked, remove turkey to platter or cutting board. Keep covered with foil and let rest 20 minutes before carving.

9 Remove rack from pan. Place 1 cup (250 mL) water into roasting pan and heat over medium-high, scraping up browned bits from bottom. Carefully strain liquid from solids, pressing gently on solids to extract flavour; 2 cups (500 mL) of liquid are needed for the gravy. If there is too little, top up with water.

10 For pan gravy, in a small saucepan melt remaining ¼ cup (60 mL) butter over medium-high heat. Whisk flour into melted butter until well combined. Slowly whisk in warm pan liquid until well combined and thickened. Lower heat and simmer for 3 minutes; set aside and keep warm. If it becomes too thick, loosen with a few drops of water.

11 Slice turkey and serve with pan gravy and stuffing (recipe follows).
APPLE, BACON & PECAN STUFFING

The benefit of cooking the stuffing outside the bird is that it allows for a more even cooking of the turkey, but the most important part about this stuffing is its fantastic combination of flavours.

1 tbsp (15 mL) unsalted butter, plus extra for baking dish
1½ cups (375 mL) finely diced onion
1 cup (250 mL) finely diced celery
3 tbsp (45 mL) finely chopped garlic
3 cups (750 mL) finely diced tart apples such as Granny Smith, skin on
2 tbsp (30 mL) coarsely chopped fresh sage
Cooked bacon pieces (reserved from Cider‑Roasted Turkey recipe)
12 cups (3 L) day-old white bread cut into 1 inch (2.5 cm) cubes
¾ cup (175 mL) coarsely chopped pecans
Salt and freshly ground pepper
3 to 4 cups (750 mL to 1 L) flavourful chicken stock
1 While the turkey is roasting, begin to make the stuffing. To saucepan used for bacon, melt 1 tbsp (15 mL) butter over medium-high heat. Add onions and celery, and cook until translucent, about 10 minutes. Add garlic and apple and continue to cook for 10 minutes more. Add sage and reserved bacon pieces and warm through for about 2 minutes.

2 In a large bowl, toss cubed bread, pecans and bacon mixture until well combined. Season generously with salt and pepper. Begin to slowly pour chicken stock over bread, starting with 3 cups (750 mL) of stock and working up from there, if needed. Toss occasionally until all the bread has been well-moistened but is not soggy.

3 Place mixture in a buttered glass baking dish. Cover with foil and place in the oven for 40 minutes. After 40 minutes, remove foil and continue cooking until the top is lightly toasted, about 20 minutes. Keep warm until ready to serve.
SHARE