Christmas Pizza with Beet-Top Pesto, Smoked Turkey & Brie
Holiday 2013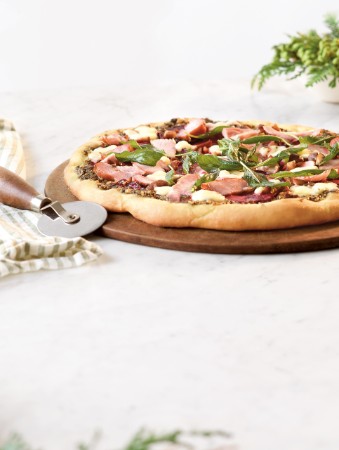 Christmas Pizza with Beet-Top Pesto, Smoked Turkey & Brie
Holiday 2013
BY: Signe Langford
Smoked turkey legs are available in most markets year-round and taste amazingly like ham. Combined with the creaminess of the brie and peppery tang of the pesto, it's delicious, and the holiday colours are beautiful! If you happen to have some leftover roasted turkey to use up, that would be great too. You can buy a ball of raw dough (found in most bakeries or grocery stores), or even buy a ready-made, cooked, flat crust, but there are enough toppings for anything from two personal size (6-inch or so) pizzas to one big (up to 12-inch) one.
2 cups (500 mL) lightly packed beet greens (tops), tough stems removed
1 cup (250 mL) lightly packed baby arugula
2 cloves garlic, peeled
3 tbsp (45 mL) grated Parmesan cheese
2 tbsp (30 mL) raw walnuts
2 tbsp (30 mL) fresh lemon juice
¼ cup (60 mL) olive oil
¼ tsp (1 mL) sea salt
1 cup (250 mL) sliced smoked turkey leg
1 ball bakery-bought fresh pizza dough
or ready-made pizza crust
Flour for dusting the board, if starting with raw dough
1 tbsp (15 mL) coarse cornmeal for dusting the pizza pan or stone, if starting with raw dough
½ cup (125 mL) diced brie
¼ cup (60 mL) chestnuts, roasted, peeled and chopped
1 beet, washed, peeled and shaved (or very thinly sliced)
15 fresh sage leaves
1 Preheat oven to 450°F (230°C).

2 Wash and separate the beet tops from the beets. Set the tops aside for the pesto. The beet may need a good scrubbing to loosen and remove all dirt. Set beet aside.

3 To make the pesto, in the bowl of a food processor, add the washed and patted-dry beet tops, arugula, garlic, Parmesan, walnuts, lemon juice, olive oil and salt; blend to a coarse purée. Set aside.

4 With a sharp paring or boning knife, thinly slice the turkey leg as expertly as you can, getting as much of the meat as possible. Set aside. Save the bone and any scraps—it's a wonderful stand-in for ham in split pea soup.

5 If using fresh pizza dough, flour the counter and rolling pin and begin rolling out the dough, using your hands to stretch and pull into a round shape. Sprinkle and spread the cornmeal in a pizza pan or on a pre-heated pizza stone and transfer the dough onto it.

6 Spread the pesto over the surface of the crust/dough, then top with the turkey, brie, chestnuts, beet slices and sage leaves. Pop into the oven and bake for about 15 minutes or until dough is golden and brie is bubbling.
SHARE