Chocolate-Sambuca Salami
Early Summer 2016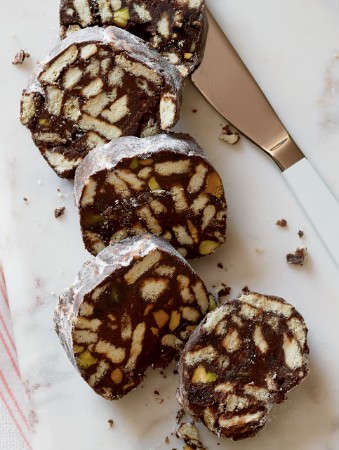 Chocolate-Sambuca Salami
Early Summer 2016
BY: Amy Rosen
For a sweet little nibble with coffee, nothing beats a chunk of chocolate. That is, nothing beats a chunk of chocolate studded with fruit and biscuits and nuts and a touch of liqueur. This easy party-pleaser has a whimsical presentation, coupled with every texture in the dessert arsenal.
¼ cup (60 mL) pitted dried chopped dates
¼ cup (60 mL) sambuca liqueur
½ pkg Social Tea Biscuits (200 g), usually 1 sleeve of the 2-sleeve pkg
¼ cup (60 mL) unsalted pistachios, roughly chopped and toasted
6 tbsp (90 mL) unsalted butter
2 bars (each 100 g) 70% dark chocolate such as Lindt, chopped
1 tsp (5 mL) instant coffee powder
½ cup (125 mL) icing sugar, plus more for dusting
Pinch of kosher salt
1 In a small bowl, combine chopped dates and sambuca and let steep for 30 minutes. Drain alcohol and pat date pieces dry.

2 Break up the Tea Biscuits into small pieces of about ½ inch (1 cm). Don't crush them and don't pulse them in a food processer. Easiest bet is putting them in a large Ziplock bag and smashing them with a rolling pin for a bit. Add the prepared dates and toasted pistachios to the mix, shake it up and set aside.

3 Over a double boiler (alternatively in the microwave, in a medium bowl) melt butter, then add chopped chocolate and using short 20-second spurts in the microwave, carefully melt chocolate into butter and mix well (this should take 1 minute total). Add instant coffee powder, icing sugar and salt and mix well, then allow mixture to cool for 10 minutes. Add the chopped dates-biscuits-pistachio mixture to the chocolate mixture and mix until combined. (Using 2 soup spoons is the easiest way to bring this mass together.) Refrigerate for 20 minutes.

4 Place a large sheet of plastic wrap on the counter and tip the chocolate mixture down the centre, shaping into a long even log using the plastic wrap and your hands to help mould it into a firm, even salami shape. Wrap with a second piece of plastic and refrigerate overnight.

5 Before serving, allow log to sit at room temperature for 15 minutes, then remove plastic wrap and sprinkle or roll log in icing sugar so that it looks like a salami. Present at the table, and allow guests to slice off rustic chunks and enjoy.
SHARE