Chocolate Pots de Crème with Cherry Compôte
Holiday 2012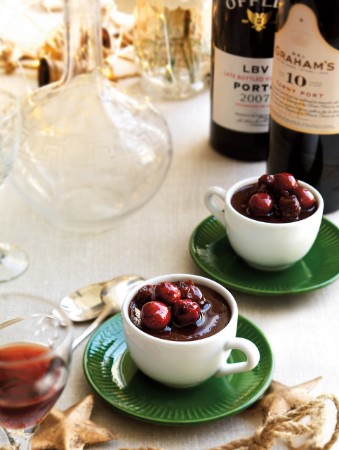 Chocolate Pots de Crème with Cherry Compôte
Holiday 2012
BY: Julia Aitken
In this decadent dessert a creamy chocolate custard hides beneath cherries in a rich port syrup. It's important not to stint on the quality of chocolate: the better the chocolate, the better the dessert. Some so-called "pitted" sour cherries have pits lurking in their midst so, just to be sure, check the cherries for pits after draining them well.
CHOCOLATE POTS DE CRÈME
6 oz (175 g) good-quality dark chocolate (70% cocoa solids), finely chopped
6 egg yolks
1 tsp (5 mL) vanilla
1 cup (250 mL) whipping cream (35%)
1 cup (250 mL) whole milk (3.25%)
¼ cup (60 mL) granulated sugar
Pinch table salt

CHERRY COMPOTE
1 cup (250 mL) dried cherries
1 cup (250 mL) tawny port
¼ cup (60 mL) granulated sugar1 cup (250 mL) well-drained pitted sour cherries in syrup (from a jar)½ tsp (2 mL) almond extract
1 For Chocolate Pots de Crème, adjust oven rack to middle position and preheat oven to 300°F (150°C). Put eight ½-cup (125-mL) ramekins in a shallow roasting pan. Set aside.

2 Put chocolate in a medium heatproof bowl. Set aside.

3 Whisk together egg yolks and vanilla in a second medium heatproof bowl. Set aside.

4 In a medium saucepan, combine whipping cream, milk, sugar and salt. Bring to a simmer over medium-high heat, stirring to dissolve sugar.

5 Pour hot cream mixture over chocolate, whisking constantly until chocolate has melted and mixture is smooth. Immediately, pour chocolate mixture over egg yolks, whisking constantly until well combined.

6 Strain chocolate custard through a fine sieve into a pitcher. Bring a kettle of water to a boil.

7 Pour chocolate custard into ramekins, dividing evenly. Pull middle oven rack out slightly and set roasting pan on rack. Carefully pour boiling water from kettle into roasting pan to come about halfway up sides of ramekins. Push oven rack carefully into oven and close oven door. Bake until custards are just set but centres still wobble slightly when roasting pan is jiggled, 25 to 30 minutes.

8 Carefully remove ramekins from roasting pan and set on a wire rack until cooled to room temperature. Refrigerate, covered, for at least 4 hours or overnight.

9 For Cherry Compote, combine dried cherries, port and sugar in a medium saucepan. Bring to a boil over medium heat. Simmer until cherries are softened, about 5 minutes. Strain mixture through a fine sieve, reserving port. Tip cooked dried cherries into a medium bowl and return port to saucepan. Increase heat to medium-high. Let bubble, stirring often, until port has reduced by about half and is slightly syrupy, about 3 minutes.

10 Pour port over cooked dried cherries. Stir in drained sour cherries and almond extract and set aside to cool to room temperature.

11 To serve, set each ramekin on a plate and carefully spoon some cherry compote on top of each chocolate custard.
SHARE