Chocolate Caramel Bûche De Noël
Holiday 2002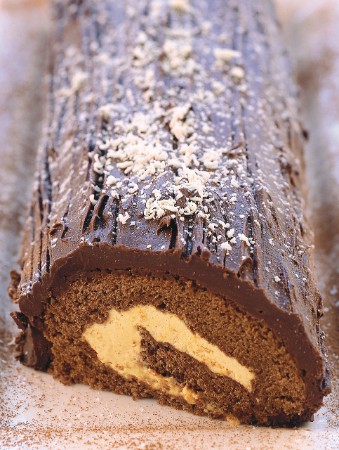 Chocolate Caramel Bûche De Noël
Holiday 2002
BY: Dufflet Rosenberg (Dufflets Bakery)
Chocolate and caramel are a trendy combination today. This bûche de Noël is easy to make if you take it in steps over a couple of days. Decorate it however you wish, grate dark or white chocolate over it or simply dust with icing sugar.
Icing
12 oz (375 g) semi-sweet or bittersweet chocolate
1/2 cup (125 mL) unsalted butter
2/3 cup (150 mL) whipping cream

Chocolate Cake
3/4 cup (175 mL) cake flour
1/3 cup (75 mL) unsweetened Dutch-processed cocoa
Pinch salt
5 eggs
3/4 cup (175 mL) granulated sugar
3 tbsp (45 mL) unsalted butter
1/4 cup (50 mL) milk 
1/2 tsp (2 mL) vanilla 
Icing sugar 

Caramel Sauce and Mousse
1 1/2 tbsp (22 mL) water
1 1/4 tsp (6 mL) unflavoured gelatin
1 cup + 6 tbsp (340 mL) granulated sugar
1 tbsp (15 mL) corn syrup
6 tbsp (90 mL) water
1 cup + 6 tbsp (340 mL) whipping cream
1/4 cup (50 mL) unsalted butter
3/4 cup (175 mL) chilled whipping cream

Soaking Syrup
2/3 cup (150 mL) water
1/3 cup (75 mL) granulated sugar
1 tbsp (15 mL) orange liqueur

Garnish
Icing sugar
1. To make Icing, combine the chocolate and the butter in a heatproof bowl and melt over simmering water, whisking often. Remove from the heat and whisk in the cream. Let stand at room temperature, whisking occasionally, until thick enough to spread, about 4 hours.

2. For Chocolate Cake, preheat oven to 350°F (180°C). Lightly grease a 15 1/2 x 10 1/2-inch (39 x 27-cm) jelly roll pan. Line the bottom with parchment paper and coat with flour.

3. Sift together the flour, cocoa and salt. Whisk the eggs and sugar in a large bowl. Place over a saucepan of simmering water and whisk until the eggs are very warm and the sugar is completely dissolved. Remove from the heat and beat at medium-high speed until mixture is light and tripled in volume, about 5 minutes.

4. Meanwhile, melt the butter in a small saucepan over medium heat. Add the milk and heat until hot. Transfer to a bowl and add the vanilla.

5. In two additions, sift the cocoa mixture over the eggs and fold in. Whisk about 1 cup (250 mL) of the batter into the butter mixture and then fold this mixture back into the cocoa batter. Spread the batter evenly in the prepared pan and bake until the cake springs back when lightly touched in the centre, about 15 minutes.

6. Sift a light coating of icing sugar over the cake. Place a clean kitchen towel over the cake and invert the cake onto the counter. Roll the cake lengthwise in the towel into a thick cylinder like a jelly roll. Cool on a rack.

7. To make Caramel Sauce and Mousse, place 1 1/2 tbsp (22 mL) water in a ramekin or custard cup. Sprinkle the gelatin over top and let stand at room temperature to soften. 

8. Combine the sugar, corn syrup and 6 tbsp (90 mL) water in a large heavy saucepan. Stir over medium-low heat until the sugar dissolves, brushing down the sides of the pan with a wet pastry brush. Increase the heat and boil without stirring until the syrup turns a deep golden brown, about 10 minutes. Remove from the heat and stir in the cream and butter. Return to low heat to melt any bits of caramel, if necessary. Pour 3/4 cup (175 mL) of the caramel into a glass measuring cup and set aside the rest to use as sauce.
9. Place the ramekin of softened gelatin in a small pan of simmering water. Stir until the gelatin dissolves and the mixture is clear. Mix into the ¾ cup (175 mL) caramel and cool to room temperature, stirring occasionally. Beat the chilled whipping cream to medium-firm peaks. Gradually pour the cooled caramel-gelatin mixture over the cream, folding constantly but gently. Chill until set enough to spread, about 30 to 45 minutes.

10. To make Soaking Syrup, in a small pot, combine water and sugar and bring to a boil. Cook just until sugar has completely dissolved, then remove from the heat and cool to room temperature. Stir in liqueur.

11. To assemble, unroll the cooled cake. Spread liberally with the soaking syrup, then the caramel mousse, leaving a ½-inch (1-cm) border around all sides. Roll up the cake into its original shape. Wrap and chill until mousse is completely set, about 1 hour. Cover the outside of the Bûche with the icing, making sure to leave the ends uncovered. Scrape the icing all over with a fork or spatula to make it look like bark.

12. Using a small sieve, dust the tops and sides of the Bûche with icing sugar. Refrigerate. Remove from refrigerator 30 minutes before serving. Serve with remaining caramel sauce, if desired.
SHARE