Chicken Stock
Holiday 2005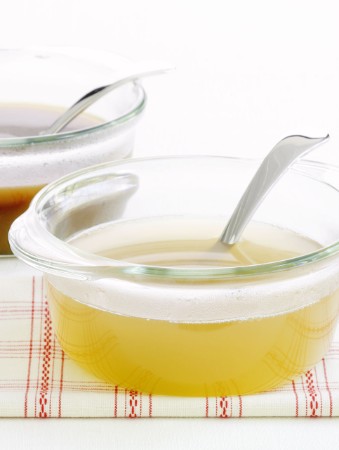 Chicken Stock
Holiday 2005
BY: Lucy Waverman
For chicken stock, use chicken backs and necks, and add a few wings for extra flavour. Freeze any uncooked necks or bones from chickens you buy for other dishes for up to 6 months and toss them into your stock. Use mushroom stalks from any kind of mushroom - it enriches the flavour. Because chicken stock is a light colour, don't brown the bones. The light coloured sauces complement light meats. When made with a whole chicken or reduced down even more, this becomes chicken soup. The cooked chicken can be used in chicken pies, salads or other dishes calling for cooked chicken. You can even use a cooked chicken carcass to make stock. It will be a darker colour because the bones are cooked, but it will be full of flavour.
4 lb (2 kg) chicken on the bone
20 cups (5 L) cold water
2 onions, quartered
2 large carrots cut into chunks
2 stalks celery, cut in thirds
3 cloves garlic, unpeeled
1. Place chicken bones in a large stockpot. Add cold water, adding more cold water if necessary to cover the bones by 2-inches (5-cm). Bring to a boil on high heat. With a slotted spoon, skim the foam from the top and discard.

2. Reduce heat to low. Add onion, carrots, celery stalks and garlic and simmer slowly for 4 hours or until the stock is reduced by one-third. If you are using a whole chicken, remove the poached meat after 1 hour to use for other purposes and return the bones to the pot.

3. Cool the stock and strain into a large bowl. Cover and refrigerate.
Makes about 12 cups (3 L)
SHARE