Chicken Liver Mousse Crostini with Marinated Blackberries
Early Summer 2018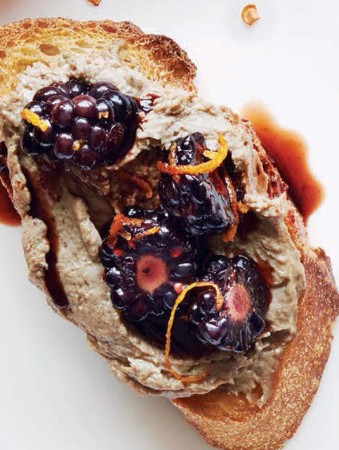 Chicken Liver Mousse Crostini with Marinated Blackberries
Early Summer 2018
BY: Eric Vellend
Instead of the usual pickles and mustard, these chicken liver toasts are accessorized with tart blackberries marinated in balsamic and orange zest (or, in the variation, a robust salad of parsley and shallots). You could also put everything out on a platter and let guests help themselves.
CHICKEN LIVER MOUSSE
½ lb (250 g) chicken livers, trimmed
Salt and freshly ground pepper to taste
2 tbsp (30 mL) vegetable oil, divided
¼ cup (60 mL) finely chopped shallots
1 tsp (5 mL) chopped thyme
3 tbsp (45 mL) brandy or Cognac
¼ cup (60 mL) heavy cream
Large pinch ground allspice
6 tbsp (90 mL) unsalted butter, cold, diced
1 tbsp (15 mL) balsamic vinegar
1 tsp (5 mL) maple syrup
¼ tsp (1 mL) finely grated orange zest
12 blackberries
12 slices baguette, cut ½ inch (1 cm) thick on bias
1. For the chicken liver mousse, rinse livers and pat dry with paper towel. Season with salt and pepper. Heat 1 tbsp (15 mL) oil in large nonstick frying pan over medium-high heat. Cook livers, turning occasionally, until firm but still pink in middles, 4 to 6 minutes. Transfer to a blender.
  
2. Reduce heat to medium and add remaining 1 tbsp (15 mL) oil. Add shallots and thyme. Cook, stirring, until tender, about 3 minutes. Add brandy and reduce until syrupy, about 1 minute. Transfer shallot mixture to blender.

3. Add cream and allspice to blender. Cover and turn on machine. With motor running, gradually add butter until melted and smooth. Season aggressively with salt—it will taste less salty when cooled. Pour into a 2-cup (500-mL) container. Press plastic wrap against surface. Cover and refrigerate at least 6 hours and up to 1 week.

4. In a medium bowl, whisk vinegar, maple syrup and orange zest. Add berries and mix gently to coat.

5. Preheat broiler to high.

6. Place baguette slices on a foil-lined heavy-duty baking tray. Broil 4 inches (10 cm) from heat until lightly browned, 1 to 2 minutes per side.

7. Thickly spread chicken liver mousse on tops of crostini. (Save rest for another use.) Top each crostini with a blackberry. (Double or triple marinated blackberries for a heartier portion.) Drizzle any remaining marinade over crostini.
SHARE