Chicken Brodo with Egg Drops, Spring Peas & Leeks
Spring 2019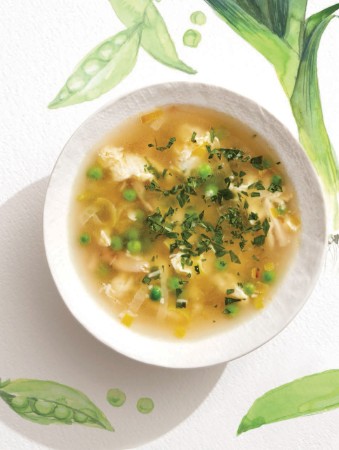 Chicken Brodo with Egg Drops, Spring Peas & Leeks
Spring 2019
BY: Michelle Rabin
This chicken soup is a perfect recipe to suit any springtime weather. A rich chicken and Parmesan broth will comfort you through chilly spring nights, while spring peas, egg drops and leeks help introduce those first signs of warm weather. If you have one, adding a piece of Parmesan rind when simmering your soup gives a deeper richer flavour. Remove before serving.
3 chicken legs with thighs attached
4 cups (1 L) chicken stock
4 cups (1 L) water
2 leeks, dark green parts removed
1 carrot, halved lengthwise
1 stalk celery, halved lengthwise
½ cup (125 mL) parsley with stems
1 piece of Parmesan rind (if available),
3 inches (8 cm) long
1 tbsp (15 mL) butter
3 eggs, whisked
1 cup (250 mL) freshly shucked peas (frozen are okay if fresh are not available)
1 cup (250 mL) lightly packed grated Parmesan cheese, divided
Salt and pepper
½ cup (125 mL) chopped parsley
1 Place the chicken in a large pot and cover with chicken stock and 4 cups (1 L) of water. Heat over high until boiling. Reduce heat immediately to low and simmer. Using a large spoon, remove any greyish foam that rises to the surface of the pot.

2 Once the stock is clear, add in 1 leek, carrot, celery, parsley and Parmesan rind. Simmer until chicken is cooked through and stock is deep golden, about 1 hour.

3 Remove chicken from pot and set aside to cool slightly. Strain stock through a fine-mesh sieve. Discard leek, carrot and celery or reserve for another use. Remove skin from the chicken and discard. Tear meat of the bones and set aside. Discard bones.

4 Slice remaining leek into ¼-inch (5-mm) rounds. Heat butter in a large pot over medium heat. Add leeks and cook until translucent and fragrant, about 3 minutes. Pour in the stock and bring to a simmer.
5 Place the whisked eggs in a bowl and add to stock, about 1 tbsp (15 mL) at a time. Egg drops will cook immediately. Continue until all the egg is dropped into the soup.
6 Stir in peas and half the Parmesan cheese. Add in reserved chicken meat and stir to heat through about 3 minutes. Add salt and pepper to taste.
7 Divide soup among bowls. Garnish with remaining Parmesan cheese and chopped parsley.
Makes about 8 cups (2 L); serves 8
SHARE