Cherry-Almond Pandoro Layer Cake
Holiday 2017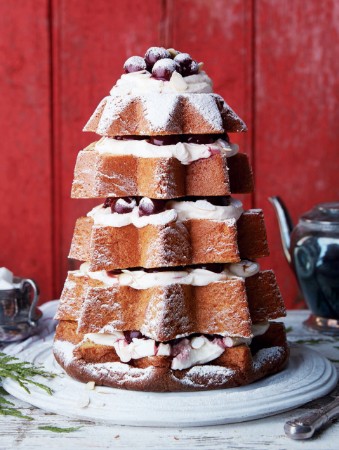 Cherry-Almond Pandoro Layer Cake
Holiday 2017
BY: Signe Langford
Both panettone and pandoro are gifted at Christmas (you'll find them together in the shops) but they are very different in flavour. Without candied fruits, and more cake than bread, this show-stopper sings Noel with its Christmas tree shape, dusting of sugar "snow" and red cherry decorations. Best of all, it's super easy! Start three days before by soaking fresh cherries in cherry liqueur, and complete it just before serving; it shouldn't sit for more than an hour as it may start to sag and slide, especially if not kept cold.
3 cups (750 mL) fresh, stemmed and pitted cherries (see TIP)
3 cups (750 mL) Luxardo cherry liqueur or cherry brandy
2 cups (500 mL) mascarpone
⅓ cup (80 mL) 35% cream
½ cup (125 mL) super fine vanilla or plain white sugar
½ cup (125 mL) sliced almonds, plus a pinch extra for garnishing
1 pandoro (about 750 g), size depends on bakery or brand
1 or 2 wooden skewers, each 10 inches (25 cm) long
2 tbsp (30 mL) icing sugar for dusting
1. Place cherries into a large jar with a tightfitting lid and add the liqueur. Cover and set on the counter to soak for 3 days. Once a day, give the jar a shake to move the cherries around.

2. When ready to assemble the cake, drain the cherries through a sieve, collecting and saving the liqueur; set aside. You can use any leftover liqueur in drinks, baking or to soak more fruit. It's also pretty delicious on the rocks!

3. Into a large bowl or the bowl of a stand mixer, add the mascarpone, cream and sugar. Mix on medium-high speed until well combined, sugar is mostly dissolved and a little lightness and volume has been achieved, about 2 minutes or less. Do not over-mix or the cream may turn to butter!

4. Add the almonds and give it one last spin to combine. Set aside in the fridge to chill for about 20 minutes.

5. Lay the pandoro on its side and slice it horizontally into 5 equally thick layers.

6. Using a pastry brush, paint the cut side of the bottom slice of pandoro with the cherry liqueur; set it onto a serving plate, spread about ⅓ cup (80 mL) of the mascarpone mixture almost to the edges, then top that with about ⅓ cup (80 mL) of the cherries. This part isn't science; just use your eye to divide up the filling and cherries; you will need less and less as you go since the slabs of cake get smaller and smaller.

7. Continue on by painting the next layer with liqueur, spreading it with mascarpone, adding some cherries, and so on until all layers are used.

8. Run 1 or 2 long wooden skewers through the cake to prevent it from sliding or falling over. Once the skewers are shoved all the way down, finish with a dollop of the mascarpone mixture on the very top. Top this with a few cherries and a pinch of sliced almonds. Dust it with icing sugar through a sieve. Serve immediately!
TIP No cherry pitter? No problem! Simply set each cherry on the opening of a soda or wine bottle, and with a straw—stainless steel is best—push the pit right through and down into the bottle.
SHARE