Cherry Almond & Cream Cheese Wreath
Holiday 2019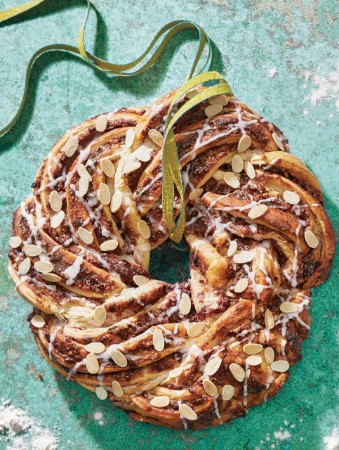 Cherry Almond & Cream Cheese Wreath
Holiday 2019
BY: Andrea Mut
If you are serving a crowd for a holiday breakfast or brunch, nothing says deck the halls like this stunning edible wreath! The second rise takes place overnight to make for easy work in the morning. Because this dough is rich in butter there is no need for flour when rolling. It will stick just enough to make the rolling easy. Look for a high-quality cherry jam or preserve that has a good set to it.
FILLING
1 cup (250 mL) cherry jam
1 cup (250 mL) dried cherries
1 cup (250 mL) blanched, sliced almonds, plus ½ cup (125 mL) for garnish
DOUGH 
3 ½ cups (875 mL) all-purpose flour, plus extra if needed
¼ cup (60 mL) sugar
2 ¼ tsp (11 mL) instant yeast
½ cup (125 mL) unsalted butter
1 ¼ cups (310 mL) whole milk
1 egg, at room temperature
Nonstick cooking spray
1 ½ pkgs (375 g) cream cheese, at room temperature
ICING
1 cup (250 mL) icing sugar, plus extra for dusting
2 tbsp (30 mL) milk
1 tsp (5 mL) vanilla extract
1 For the filling, place jam, cherries and 1 cup (250 mL) almonds in the bowl of a food processor: pulse until it turns into a paste. Reserve. (Filling can be prepared up to 3 days in advance, covered and refrigerated.)
2 For the dough, mix flour, sugar and yeast together in the bowl of a stand mixer fitted with the dough hook attachment. In a saucepan melt the butter until just bubbling. Remove from heat, add the milk and stir. Let cool until it reaches 104°F (40°C) or is slightly warmer than your finger. Whisk in the egg.
3 Add wet ingredients to flour mixture. Knead on medium-low speed for 8 to 10 minutes or until you have a smooth, even dough. Add more flour, 1 tbsp (15 mL) at a time, if the dough is sticking to the sides of the bowl after 3 minutes of kneading. (If you don't have a mixer you can knead by hand for 12 to 15 minutes or until you have a smooth, even dough).
4 Lightly spray a large bowl (large enough that the dough can double in size) with cooking spray. Place the dough in the bowl. Lightly spray a piece of plastic wrap and loosely cover. Let rise until doubled in size in a warm place (see TIP) for 45 minutes (or more depending on the rising conditions). To test if dough has risen enough, poke it with an oiled finger; the indent should fill back in slowly. Once risen, punch dough down and turn out onto work surface.
5 Line a baking sheet with parchment paper; set aside. Roll dough into a 24 x 12-inch (60 x 30 cm) rectangle with the long edges at top and bottom. Spread cream cheese evenly over the surface, leaving a 1-inch (2.5-cm) border at the bottom edge free of filling. If your cream cheese is too hard to spread, soften it carefully in the microwave. Spread cherry mixture evenly over cream cheese. Lightly moisten the bottom edge with water. Roll up dough by starting from top edge and rolling towards yourself; keeping it as tight as possible. Seal the bottom edge by pinching together; turn seam-side down.
6 With a sharp knife, slice log into 2 equal pieces lengthwise. With cut sides facing up, carefully and tightly "braid" the 2 pieces by criss-crossing one over the other. Gently move the braided dough to the parchment-lined tray. Form into a circle, intertwine and pinch the ends together to complete the wreath. (This won't look perfect right now but it's barely noticeable once the wreath is baked and garnished.) Lightly spray plastic wrap with cooking spray and loosely cover wreath. Place in refrigerator overnight.
7 Remove wreath from fridge in the morning; let stand, covered, until it comes to room temperature, about 1 hour. Remove plastic wrap.
8 Preheat oven to 350°F (180°C).
9 Bake on centre rack for 45 to 55 minutes or until golden brown and cooked through. Remove from oven and let cool at least 15 minutes. Meanwhile toast remaining ½ cup (125 mL) sliced almonds in the same oven for 10 minutes or until golden brown.
10 For the icing, in a small bowl stir together icing sugar, milk and vanilla. Drizzle cooled wreath with icing, sprinkle with almonds and lightly dust with more icing sugar.
TIP
For perfect rising conditions, heat a mug of water in the microwave for 2 minutes on high. Place the bowl of dough in the microwave, along with the water, and close the door. This creates moisture and warmth, ensuring the perfect environment for the dough to rise.
SHARE