Cheddar Cups with Fresh Tomato Relish & Crispy Pancetta
Autumn 2018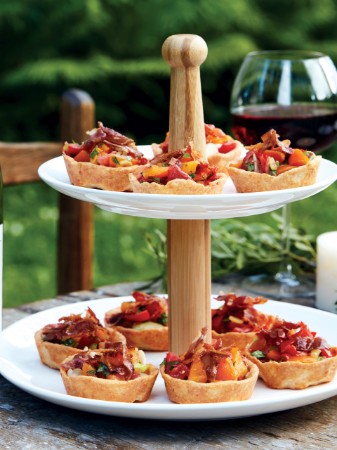 Cheddar Cups with Fresh Tomato Relish & Crispy Pancetta
Autumn 2018
BY: Marilyn Bentz-Crowley
While vodka may seem unusual in dough, it releases alcohol-soluble flavours and most importantly, does not toughen cheese dough. Good Ontario cheddar comes from various cheesemakers around the province. Pick your favourite. Star ingredients are our local vine-ripened tomatoes, full of juice and flavour, as well as Pinged Pancetta from Niagara Food Specialties. For a meatless option, the recipe works well without pancetta. We used 2-inch (5-cm) tart tins but you can also use minimuffin tins. They take a little less time to bake.
CHEDDAR CUPS
¼ cup (60 mL) butter, softened
1 tsp (5 mL) Dijon mustard
2 cups (500 mL) grated cheddar, at room temperature
¾ cup (175 mL) all-purpose flour
¼ tsp (1 mL) salt
¼ tsp (1 mL) cayenne
1 to 2 tbsp (15 to 30 mL) vodka

TOMATO RELISH
1½ cups (375 mL) seeded and diced ripe tomatoes
1 large green onion, finely sliced
3 to 4 tbsp (45 to 60 mL) finely chopped fresh basil or parsley
2 tbsp (30 mL) extra virgin olive oil
1 tsp (5 mL) red-wine vinegar
Salt and freshly ground pepper to taste
4 oz (115 g) pancetta, cooked and coarsely crumbled, optional
1. Preheat oven to 325°F (160°C). Coat tart tins with nonstick spray.

2. With electric beater beat butter with mustard until well combined. Beat in cheese only until small bits of cheese are still visible. Combine flour, salt and cayenne; stir into cheese mixture. Stir in 1 tbsp (15 mL) vodka until dough forms. If too dry, add remaining vodka. (You could also use a food processor to make the dough.)

3. Gather dough into 2 logs, each about 12 inches (30 cm) long. Cut 12 pieces of dough from each length and shape into a cup-like shape. Press into tart tins, pressing to evenly fill each cup right to the top. Prick the base of each tart with a fork.

4. Bake in oven centre for 20 minutes or until lightly browned. Cool on a rack before turning out. If cheese cups stick, turn pan upside down over rack and lightly rap bottom of each muffin cup with back of a spoon until released. (Cheese cups can be made ahead and stored airtight at room temperature for several days or frozen for a month.)

5. To make relish, toss tomatoes with green onion and basil in a small bowl. Stir in olive oil and vinegar. Season tomato mixture with salt and pepper. (Mixture can sit at room temperature for a couple of hours but loses flavour if refrigerated.)

6. When ready to serve, return cheddar cups on a metal tray to preheated 325°F (160°C) oven for 5 minutes to crisp. Cool slightly; then fill each with a spoonful of tomato mixture. Top with crumbled pancetta. Serve right away.
SHARE