Cheddar Cups with Fresh Tomato Relish & Crispy Pancetta
Winter 2009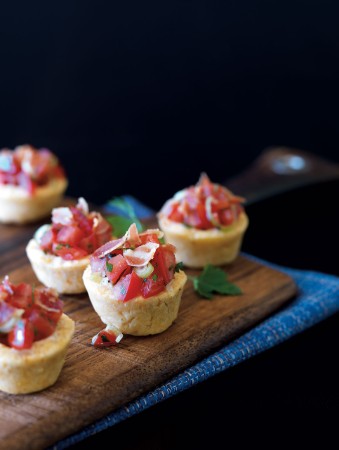 Cheddar Cups with Fresh Tomato Relish & Crispy Pancetta
Winter 2009
BY: Marilyn Bentz-Crowley
These crispy cups are shaped in mini-muffin pans. Use orange cheddar to add a golden hue. While vodka may seem unusual, it releases alcohol-soluble flavours and most importantly, does not toughen cheese dough.
Cups
¼ cup (50 mL) butter, softened
1 tsp (5 mL) Dijon mustard
2 cups (500 mL) grated cheddar, at room temperature
¾ cup (175 mL) all-purpose flour
¼ tsp (1 mL) salt
¼ tsp (1 mL) cayenne
1 to 2 tbsp (15 to 25 mL) vodka

Tomato Relish
1½ cups (375 mL) seeded and diced plum tomatoes
1 large green onion, finely sliced
3 to 4 tbsp (45 to 60 mL) finely chopped fresh basil or parsley
1 tbsp (15 mL) olive oil
¾ tsp (4 mL) red-wine vinegar
¼ tsp (1 mL) salt
Several grindings of black pepper

8 oz (250 g) pancetta or regular bacon, cooked and coarsely crumbled
1. Preheat oven to 325°F (160°C). Coat mini-muffin cups with nonstick spray. Using electric beaters, briefly beat butter with mustard; then add cheese. Beat until well combined and only small bits of cheese are still visible. Stir flour with salt and cayenne; stir into cheese mixture. Add 1 tbsp (15 mL) vodka; stir until dough forms. Dough has cookie-like texture; if too dry, add another tbsp (15 mL) of vodka.

2. Gather dough into a log about 12 inches (30 cm) long. Cut in half lengthwise; then cut each half into quarters. Cut each quarter into 3 pieces ending up with 24 equal pieces of dough. Using your hands, shape each piece of dough into a cup-like shape. Fit into muffin-cups, pressing to evenly fill each cup right to top.

3. Bake in oven centre for 20 minutes or until lightly brown. Cool on a rack before turning out. If cheese cups stick, turn pan up-side down over rack; hold slightly above rack and lightly rap bottom of each muffin cup with back of a spoon until released. (Cheese cups can be made ahead and stored airtight at room temperature for several days or frozen for a month.)

4. To make relish, toss tomatoes with green onion and basil in a small bowl. Stir olive oil with vinegar, salt and pepper; add to tomato mixture. Gently stir to combine. (Mixture can sit at room temperature for a couple of hours, but loses flavour if refrigerated.)

5. When ready to serve, return cheddar cups on a metal tray to preheated 325°F (160°C) oven for 5 minutes to crisp. Cool slightly; then fill each with a spoonful of tomato mixture. Top with bacon bits, giving each cup a slight pat to firm up filling. Serve right away.
SHARE