Chai-Spiced Mulled Wine
Holiday 2020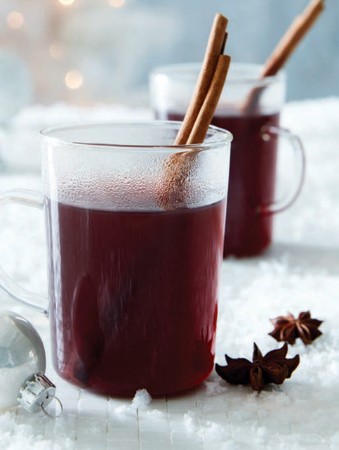 Chai-Spiced Mulled Wine
Holiday 2020
BY: Charlene Rooke
Adding only chai tea and a little sweetening creates a spectacular mulled wine, but vanilla extract and fresh ginger gives it additional depth with minimal effort. For a large-format 1.5-L bottle of wine, double all quantities.
1 bottle (750 mL) fruity, dry red wine
1½ cups (375 mL) water
Peel of 1 orange
Peel of 1 lemon
1/4 cup (60 mL) honey, or more to taste
3 chai tea bags
1 tsp (5 mL) vanilla extract
1 piece (2 inches/5 cm) ginger, peeled and sliced into 1/4-inch (5-mm) coins (optional)
2 oz dark rum
Cinnamon sticks, star anise or clove-studded orange peels, for garnish
1. In a large saucepan, combine wine, water, citrus peels and honey and stir to combine well. Add chai tea bags, vanilla and ginger, keeping any tea bag strings or tags away from heat or gas flame. Heat over medium or until mixture simmers but does not boil; add rum and taste, adding more honey to‑taste, if desired. Reduce to low and heat for 10 minutes.

2. To serve, remove tea bags and any solids. Using a heatproof ladle, portion into heatproof glasses or mugs and garnish with a cinnamon stick, star anise or clove-studded orange peel.
SHARE