Celery Root and Cèpe Soup
Autumn 2006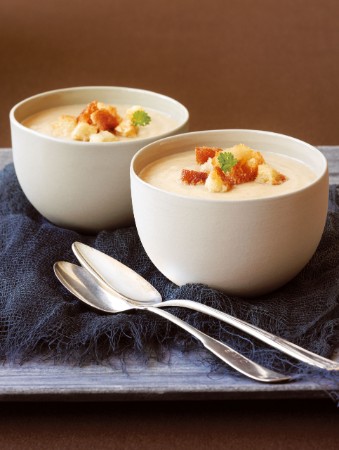 Celery Root and Cèpe Soup
Autumn 2006
BY: Jennifer McLagan
This is a sophisticated rich soup and the croutons, while not essential, provide an interesting contrast in texture.
½ oz (15 g) dried cèpes (or porcini)
2 medium onions
1 celery root, about 5 inches (12 cm) in diameter
2 tbsp (25 mL) unsalted butter
2 tbsp (25 mL) olive oil
2 tsp (10 mL) kosher salt
Freshly ground pepper
1 cup (250 mL) light cream
Fried bread croutons, optional
1. Place the dried mushrooms in bowl and pour over 3 cups (750 mL) boiling water. Leave the mushrooms to soak for 20 minutes.

2. Peel and dice the onions and celery root. In a large frying pan with a lid, heat the butter and oil over medium-low heat. Add the onions, celery root and salt. Stir to coat the vegetables in the butter and oil, cover and cook gently for 15 minutes.

3. Remove the dried mushrooms from the soaking liquid, chop them coarsely and add to the vegetables. Carefully strain the soaking liquid through a fine sieve and pour into the pan. Cover and cook until the vegetables are very soft, about 15 minutes. Season with pepper and more salt if necessary and let cool slightly.

4. Purée the vegetable mixture in batches in a blender, then pour into a saucepan. Add the cream, then heat the soup gently. If it seems too thick, add more water.

5. Serve topped with croutons, if desired.
SHARE