Canadian Grilled Salmon
Holiday 2016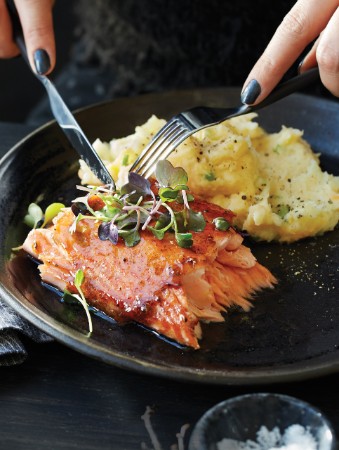 Canadian Grilled Salmon
Holiday 2016
BY: Lucy Waverman
With its subtle swirl of spices and a character that is more sweet than bitter, Canadian whisky works well in the kitchen. In this recipe, we pick up on notes in the Crown Royal and amplify them with maple syrup, cinnamon and ginger. Marinating for only 15 minutes lets these flavours become part of the taste of the salmon without dominating things too much or hiding the fi sh's own naturally sweet personality. "Topping it with crunchy seedlings adds some extra texture," explains Lucy Waverman. "Salmon and rye and maple syrup are such a Canadian combination that this could become our national dish."

Lucy likes to grill salmon on a cedar plank, avoiding the problems of trying to remove the fish from the grill. A plank can be reused after washing, but buy a heavy one, as lighter ones burn up. Alternatively, bake the dish in a 450°F (230°C) oven for 12 minutes or until still slightly pink in the centre. Serve with a side of Cheddar Mashed Potatoes (recipe at foodanddrink.ca) and sautéed Brussels sprouts.
1 large cedar plank, about 12 x 16 inches (30 x 40 cm)
2 tbsp (30 mL) soy sauce
3 tbsp (45 mL) Crown Royal
1 tbsp (15 mL) maple syrup
1 tbsp (15 mL) vegetable oil
1 tsp (5 mL) cinnamon
1 tsp (5 mL) ground ginger
1 tsp (5 mL) freshly ground black pepper
Pinch kosher salt for the salmon, plus 1 tsp (5 mL) to season plank
1 whole piece salmon, 1½ lbs (750 g), skin on


GARNISH

3 cups (750 mL) mixed seedlings
½ tsp (2 mL) grated lemon rind
1 tbsp (15 mL) olive oil
Salt to taste
1 Immerse cedar plank in hot water for 1 hour.

2 Combine soy, whisky, maple syrup, oil, cinnamon, ginger, black pepper and salt to taste. Place salmon skin-side down in a dish large enough to hold it in a single layer. Pour over marinade and leave for 15 minutes.

3 Preheat barbecue to high. Place board on grill for 2 minutes. Turn over and salt the board. Turn off middle burner. Lay salmon skin-side down on board over middle burner. Close grill and grill for 10 to 15 minutes or until still slightly pink in thickest part. Remove from grill. Take salmon off plank by slicing underneath with a sharp knife (the skin will stay on the board). Slice down the centre, then cut each piece in half. Place on a serving plate.

4 Toss seedlings with grated lemon rind and olive oil, sprinkle with a little salt and pile on top of salmon.
SHARE