Canada Day Strawberry Shortcake
Summer 2017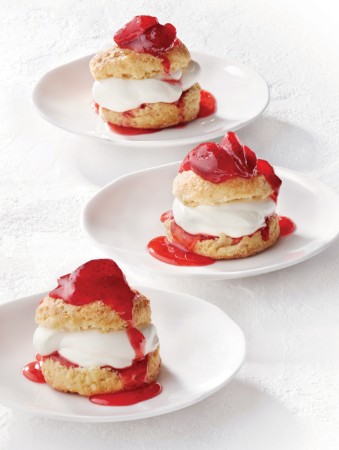 Canada Day Strawberry Shortcake
Summer 2017
BY: Elizabeth Baird
This recipe honours the Canadian tradition of preserving, strawberries being a big favourite to "put down" for later. Platter Strawberry Jam, a heritage recipe, has a very soft set, lovely in shortcake, and if you have any biscuits left over, just right for buttered biscuits on the weekend. For a fresh berry version, wash, hull and slice 5 cups (1.25 L) berries, sweeten them slightly, just enough to make a syrupy juice, and spoon over the Sour Cream Biscuits as we do with the Platter Strawberry Jam used in this recipe. Some like to purée some of the berries, and many really like a whole strawberry on top, hull and all.
1 cup (250 mL) whipping cream
¼ cup (60 mL) 30% sour cream
8 Sour Cream Biscuits (recipe follows)
1½ cups (375 mL) Platter Strawberry Jam (recipe follows)
1. Whip cream to soft peaks; gently whisk in sour cream. To make ahead, cover and refrigerate for up to 2 hours.

2. Break the biscuits in half. Place bottom halves in shallow dessert bowls. Drizzle some of the jam syrup on the cut side. Spoon on 1 rounded tbsp (15 mL) of the cream mixture. Cover with the biscuit tops, then more cream, if desired. When all of the Strawberry Shortcakes are assembled to this point, spoon berries from the jam on top, letting the syrup flow over the shortcake.
SOUR CREAM BISCUITS

Another example of waste not want not in farm kitchens. When cream soured naturally, there was no better way of using it up than making biscuits. The sour cream makes a moist feathery biscuit, ideal for turning into shortcake, but equally good served for breakfast or any time of the day.

1½ cups (375 mL) all-purpose flour
4 tsp (20 mL) sugar
2 tsp (10 mL) baking powder
½ tsp (2 mL) baking soda
¼ tsp (1 mL) salt
¼ cup (60 mL) cold butter, cubed
1 large egg
¾ cup (175 mL) 14% sour cream
1. Arrange oven rack in centre of oven. Preheat oven to 400°F (200°C). Line small baking sheet with parchment paper or dust lightly with flour.

2. In a large bowl, whisk together flour, sugar, baking powder, baking soda and salt. Using pastry blender or fingertips, work in butter until mixture is crumbly. In a separate bowl, whisk together egg and sour cream. Pour over dry ingredients. Stir with a fork to make soft ragged dough. With floured hands, press into a rough disc.

3. Turn out onto a generously floured surface; give dough 8 gentle turns to smooth dough. Pat or roll out to generous ¾-inch (2-cm) thickness. With a 2-inch (5-cm) floured biscuit cutter, cut out rounds, wiping any dough from the cutter between cuts and dipping into flour. Re-roll scraps and cut additional rounds. Gather remaining scraps to form the baker's biscuit. Arrange 2 inches (5 cm) apart on prepared pan.

4. Bake until tall and golden, about 18 to 20 minutes. Let cool on rack. Always best if eaten when just cool from the oven!
Makes 8 biscuits, plus a biscuit for the baker to enjoy
PLATTER STRAWBERRY JAM

This jam-making technique, boiling whole berries and sugar, then spreading it on a platter overnight before jarring, is old-fashioned but effective in creating a soft set preserve, somewhere between jam and syrupy compote. Because the jam is not processed in a boiling water bath, it requires refrigeration. It will last about 3 weeks, though its shorter shelf life is not a problem as the recipe, based on an old quart box of berries, makes about 3½ jars.

5 cups (1.25 L) strawberries
3½ cups (875 mL) sugar
¼ cup (60 mL) fresh lemon juice
1. Rinse strawberries briefly, and hull. If berries are small, leave whole; for larger berries, cut into halves or quarters.

2. Combine berries, sugar and lemon juice in a wide heavy-bottom shallow saucepan. Stir over low until sugar dissolves, about 10 minutes. Bring to a boil over high and boil hard, stirring almost constantly, until jam thickens, 10 minutes. Remove from heat; skim off any foam.

3. Pour onto a large platter to cool. Cover and set aside at room temperature for 12 hours or overnight. Spoon into clean jars, seal and store in the refrigerator for up to a month.
Makes three to four 1-cup (250-mL) jars
SHARE