Bruléed Rice Pudding with Icewine-Soaked Raisins
Holiday 2008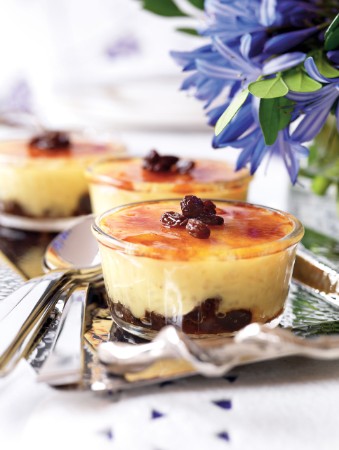 Bruléed Rice Pudding with Icewine-Soaked Raisins
Holiday 2008
This is the best, richest rice pudding ever! You can include bits of caramelized apples with the raisins, if desired. The tarragon gives a special background flavour to the rice that is unbeatable. This quantity makes too much for 4 people but make 4 individual ramekins and save the rest for breakfast or dinner the next day.
1 cup (250 mL) arborio rice
2 cups (500 mL) milk
2 cups (500 mL) whipping cream
3 sprigs fresh tarragon, tied together with kitchen string
1 vanilla bean, cut in half lengthwise, seeds scraped out with the edge of a knife
12 egg yolks
1 cup (250 mL) sugar
2 tbsp (25 mL) Vidal icewine
¼ cup (50 mL) raisins
Sugar for brûlée topping
1. Place rice, milk and cream in a large pot. Add tarragon, vanilla bean and seeds and bring to a boil. Turn heat to low and simmer stirring occasionally for 20 to 30 minutes or until rice is soft and mixture is reduced and thickened.

2. Place egg yolks and sugar in a large mixing bowl. Beat with an electric mixer on high speed for 1 to 2 minutes or until mixture is pale and very thick. Add cooked rice mixture to yolks and stir to combine.

3. Return mixture to pot, place over low heat and cook, stirring constantly for about 12 minutes or until thickened (do not boil, mixture will curdle).

4. Pour rice pudding into a clean bowl. Fill a larger bowl with ice water and place the bowl of rice pudding in it. Stir to cool. Remove tarragon and vanilla beans.

5. Place icewine in a small pot. Add raisins and bring to a boil. Remove from heat and let raisins sit for 10 minutes or until plump.

6. Divide raisins between 4 ramekins or espresso cups. Fill with warm rice pudding. Sprinkle each ramekin with an even layer of sugar, approx. 2 tsp (10 mL) each. Caramelize with a blow torch or by placing ramekins under a preheated broiler for 1 to 2 minutes or until golden. Chill before serving.
SHARE