Brandied Mushrooms with Chèvre Stuffing
Early Summer 2002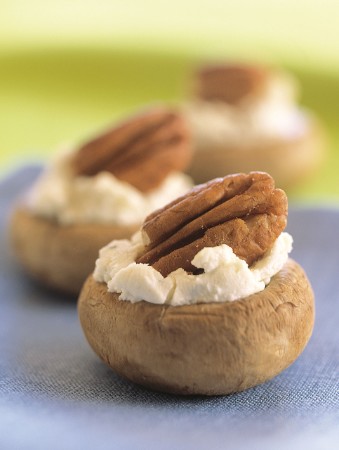 Brandied Mushrooms with Chèvre Stuffing
Early Summer 2002
BY: Marilyn Bentz-Crowley and Joan Mackie
Pecans provide a crunchy texture to flavour-packed mushroom caps. A no-mess, no-drip appetizer, these are small enough to pop into your mouth in a single bite.
1 cup (250 mL) white wine
2 tbsp (25 mL) brandy
1 tsp (5 mL) salt
1 small onion, thinly sliced
1 lb (500 g) small mushrooms, about 1 1/4 to 1 1/2 inches (3 to 4 cm)
in diameter
4 oz (125 g) chèvre with fine herbs, at room temperature, about 1/2 cup (125 mL)
About 36 small pecan halves, toasted

Variations

Substitute plain chèvre instead of fine herbs chèvre and stir in 2 tbsp (25 mL) chopped mixed fresh herbs. Press tops of cheese-filled mushroom caps into chopped fresh herbs instead of using pecans.
1. Bring wine, brandy, salt and onion to a boil in a medium saucepan. Cover and simmer 5 minutes.
2. Wipe mushrooms clean with a barely damp cloth and remove stems. Stir mushroom caps into simmering wine mixture. Cover and simmer 10 minutes, stirring once halfway through. Pour off liquid and turn mushrooms hollow-side down to drain. Let cool to room temperature.
3. Generously fill mushroom caps with cheese. Top each with pecan half. Cover and chill until ready to serve, up to a day ahead.
Makes about 36 appetizers
SHARE