Bow-Tie Pasta with Crispy Pancetta & A Peppery Asiago Sauce
Holiday 2018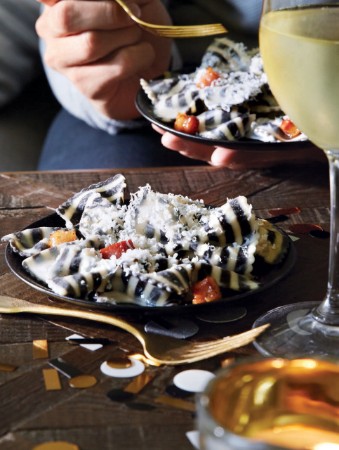 Bow-Tie Pasta with Crispy Pancetta & A Peppery Asiago Sauce
Holiday 2018
BY: Signe Langford
Bow-tie pasta—aka farfalle—often comes in fun colours or even stripes; we think sophisticated black and white is just right for this night, but any will do. Conveniently, you can cook, drain and hold the pasta a little earlier in the day, then toss with the hot sauce right before serving. We've made this dish with Asiago, but pecorino, Romano or Parmesan would all be fantastic.
8 cups (2 L) bow-tie pasta, cooked according to package directions
Salt
1 tbsp (15 mL) olive oil
1 tbsp (15 mL) whole white or black peppercorns
2 cups (500 mL) diced pancetta, about 17 to 171/2 oz (485 to 500 g).
1 tbsp (15 mL) butter
1 shallot, finely chopped
½ cup (125 mL) dry white wine
¾ cup (175 mL) 35% (whipping) cream
2 cups (500 mL) grated Asiago, plus more for garnishing if desired
1. Cook pasta according to package directions in well-salted water. Just before draining pasta, collect and reserve about ¼ to ½ cup (60 to 125 mL) of the salty, starchy pasta water.

2. Add drained pasta to a large bowl, drizzle with about 1 tbsp (15 mL) olive oil, and toss to coat. Cover and set aside at room temperature. The oil will prevent the pieces of pasta from sticking together.

3. Add the whole peppercorns to a heavy-duty freezer bag and smash with a wooden mallet or rolling pin, to just coarsely crack; set aside.

4. Into a very large skillet over medium heat, add the diced pancetta; stir occasionally and fry until the pancetta is beginning to crisp up and render its fat—about 10 minutes. Using a slotted spoon, lift out about one-third of the fried pancetta and set aside on paper towel to drain; you'll use this as a finishing garnish.

5. Drain and save excess fat from the skillet, leaving about 1 tbsp (15 mL). Save the pancetta fat for roasting potatoes or frying eggs.

6. Add the cracked peppercorns, butter and shallot to the skillet; stir and fry until the shallot becomes translucent, about another 5 minutes.

7. Add the white wine; stir and scrape up the cooked-on tasty pancetta bits from the bottom of the skillet.

8. Reduce heat to medium-low. Add the cream, cooked pasta and reserved pasta water a bit at a time, stirring until pasta is creamy and coated.

9. Remove from heat, add the grated cheese, stir to combine, taste and adjust for saltiness. Serve at once garnished with a few crispy bits of pancetta and more cheese on top. For guests who are serious pepper fans, bring the grinder to the table.
SHARE