Blueberry & Sparkling Red Moscato Jelly
Spring 2016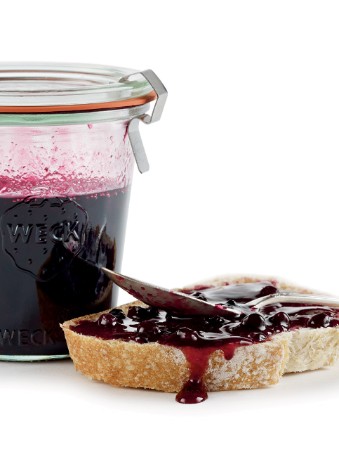 Blueberry & Sparkling Red Moscato Jelly
Spring 2016
BY: Signe Langford
Making jam is easy, but you do need a few pieces of essential equipment: heatproof jars, a wide-mouth funnel, a large pot and patience. For the novice, an all-in-one kit is a great starting point; however, with or without a canning kit, you can make delicious preserves like this one at home. If you skip the sterilizing (hot water bath) step, it just means the jam won't be shelf-stable, and you'll need to store the sealed jars in the fridge or freezer.
4 cups (1 L) blueberries, fresh or frozen (see TIP)
1 cup (250 mL) sparkling red Moscato wine
6 cups (1.5 L) sugar
Juice of 1 large lemon, about ⅓ cup (80 mL)
1 pouch (85 mL) liquid pectin
1 Before you start cooking, pop a plate into the freezer; you'll use that in a little bit to test the readiness of the jam.

2 Into a large, heavy-bottom saucepan over medium-high heat, add the blueberries, wine, sugar and lemon juice. Bring up to a good boil, stirring constantly and watching closely, in case it starts to foam and boil over.

3 When it comes to a boil, add the whole pouch of liquid pectin—try to squeeze out every drop; you need it!—stir in and bring back up to the boil. Boil for about 1 minute stirring constantly.

4 Spoon a drop of hot jam onto that chilled plate and pop it back into the freezer; if it begins to gel or set within 30 seconds or so, it's time to bottle. If not, boil for another minute, then retest.

5 To bottle, transfer the still-hot jam into warm, sterilized jars. Don't overfill; about ¼ inch (5 mm) from the top is perfect.

6 Pop on the lids, tighten, and finish canning by submerging the filled, tightly sealed jars into a very large pot of boiling water for about 20 minutes. Remove from the water bath and allow to cool on the counter. You should hear a chorus of metallic clinks and clunks coming from the kitchen, as the seals set tight!
TIP We tested this recipe with both fresh and frozen blueberries, and while both work well, it's easier to find wild blueberries frozen. Wild berries are smaller and, we think, tastier!
Makes about 6½ cups (1.625 L)
SHARE