Black Forest Gâteau
Early Summer 2009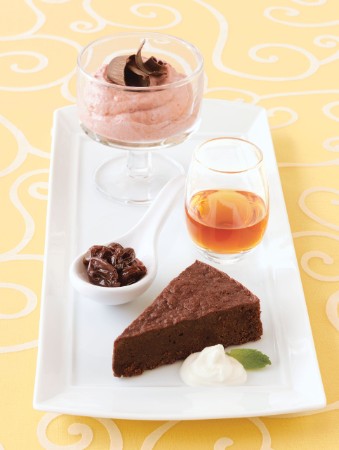 Black Forest Gâteau
Early Summer 2009
BY: Julia Aitken
Moist chocolate cake teams with creamy cherry mousse and brandied cherries in this fresh take on tradition. The recipe for the chocolate-almond cake makes an 8-inch (20-cm) cake but you'll only need half of it for this dish. Wrap the remainder in foil and freeze for up to 1 month to enjoy on another occasion. One large kaiser, crust trimmed off, the bun torn into pieces and processed in a food processor, will yield the 13⁄4 cups (425 mL) of bread crumbs needed for the cake.
Cherry Mousse
1 jar (796 mL) red sour pitted cherries in syrup
1 pkg (7 g) unsweetened powdered gelatin
1⁄4 cup (50 mL) granulated sugar
1⁄2 tsp (2 mL) almond extract
1 cup (250 mL) whipping cream

Chocolate-Almond Cake
6 oz (175 g) good-quality semi-sweet chocolate, coarsely chopped
1⁄3 cup (75 mL) unsalted butter, softened
1⁄4 cup (50 mL) granulated sugar
3 eggs, separated
1 3⁄4 cups (425 mL) soft fresh bread crumbs
3⁄4 cup (175 mL) ground almonds

Brandied Cherries
1 cup (250 mL) dried sour cherries
1⁄3 cup (75 mL) reserved cherry syrup (see Cherry Mousse above) 1⁄4 cup (50 mL) brandy

Garnish
1⁄2 cup (125 mL) whipped cream
6 chocolate curls

Serve With
6 oz (175 mL) kirsch or almond liqueur
1. For cherry mousse, drain cherries, reserving 1⁄4 cup (50 mL) syrup for mousse and 1⁄3 cup (75 mL) for brandied cherries (Step 11). Pour the1⁄4 cup (50 mL) reserved syrup into as mall bowl; sprinkle gelatin on surface. Set aside for 5 minutes until puffy.

2. Pick over cherries to remove any pits. In a blender (not a food processor), blend cherries and sugar until smooth.Rub cherry purée through a fine sieve into a medium saucepan, discarding solids in sieve. Heat over medium-low heat until steaming. Stir in gelatin mixture, continuing to stir until gelatin is completely dissolved. Remove saucepan from the heat; let purée cool completely.Stir in almond extract.

3. In a large bowl, whip cream until it holds stiff peaks. Gradually fold in cherry purée until well combined.Spoon mousse into six 1-cup (250-mL)dessert glasses, dividing evenly. Cover and refrigerate until set, about 3 hours.

4. For chocolate-almond cake, preheat oven to 350°F (180°C).

5. Cut a circle of parchment or waxpaper to fit the base of an 8-inch (2-L)springform pan. Lightly butter base and sides of pan; put paper circle in base. Set aside.

6. In a bowl set over a saucepan of hot(not boiling) water, melt chocolate, stirring occasionally until smooth. Remove from the heat; let cool slightly.

7. In a large bowl and using an electric mixer, beat together butter and sugar until light and fluffy. Beat in egg yolks1 at a time, beating well after each addition. Beat in chocolate; stir in bread crumbs and almonds.

8. In a separate bowl and using clean beaters, beat egg whites on highspeed until stiff peaks form. With a large spoon or rubber spatula, fold egg whites into chocolate mixture until well combined and no white streaks remain.

9. Spoon batter into prepared pan, smoothing surface level. Bake for25 to 30 minutes, until centre of cake springs back when touched lightly.(Do not overbake; cake should still be moist in centre.)

10. Run a knife around inside edge of pan; let cake cool completely in pan on a wire rack. Release sides of pan; remove cake from pan. Peel off paper.Wrap cake tightly in plastic wrap; refrigerate until ready to serve.

11. For brandied cherries, stir together cherries and reserved syrup in a small saucepan. Bring to a boil over medium-high heat. Reduce heat to medium-low; simmer, uncovered, for about 5 minutes or until cherries are softened. Remove from the heat; tip into a small non-reactive bowl. Stir in brandy; let cool completely.

12. To serve, cut cake in half; cut one half into 6 wedges (refrigerate or freeze remaining cake). Put 1 wedge of cake on each of 6 individual dessert platters or plates. Garnish each piece of cake with a rosette or dollop of whipped cream. Divide brandied cherries among 6 decorative spoons, such as Asian ceramic spoons (or serve in shot glasses with teaspoons). Garnish each cherry mousse with a chocolate curl; set 1 mousse and1 portion of brandied cherries next to each slice of cake, along with a shot glass of kirsch or almond liqueur.
SHARE